A very helpful librarian handed me this book as I was doing research on picture books that dealt with prepositions and opposites. I have to admit when I first read this book (alone), I didn't think much of it. Later I read it to my four-year old and saw her face light up. I guess sometimes to really understand the appeal of a book, you just have to read it to a kid. This has become my daughter's new favorite book, which is really saying something since she normally only wants to read Disney princess or Mickey Mouse Clubhouse. So in honor of my little girl I write today's book review.
Title: Where is the Green Sheep?
Author: Mem Fox
Illustrator: Judy Horacek
Publisher: Harcourt, 2004
Book Type:Fiction
Ages: 2-4
Themes: Vocabulary, Opposites
Opening Sentences:
"Here is the blue sheep. Here is the red sheep.
Here is the bath sheep. And here is the bed sheep.
But where is the green sheep? "
Synopsis (from Harcourt site):
There are red sheep and blue sheep, wind sheep and wave sheep, scared sheep and brave sheep, but where is the green sheep?
Activities:
Classroom:
This

lesson plan

has numerous activity ideas. Make flash cards for the word and have kids pair the opposites together. A song to the tune of "Are You Sleeping". Create artwork of sheep doing the different activities and then write a few sentences about what the sheep is doing.
This

reading guide

provides discussion questions, suggestions for creating your own "Where is the Sheep? story", phonological awareness activities, and many more.
Craft:
Parent-Tot:
Sit your kid in the lap, and have them point to the sheep matching the text you just read.
Once your child has become familiar with the book, encourage them to tell you lines from the story or even the entire book.
Why I Like this Book:
This a sweet, simple, colorful book perfect for pre-schoolers. In the beginning I had my doubts of the moon sheep and the bed sheep, since it isn't grammatically correct. But after seeing my four-year old fall in love with the book, and read it to herself (more like recite from memory) any concern I had faded away. Each page just has a short line with a complementary picture, this works great for kids taking that first step into reading. After every four sentences the question "where is the green sheep" appears; this will keep kids turning the pages hunting for that elusive green sheep.
Here is one of my daughter's favorite page spreads.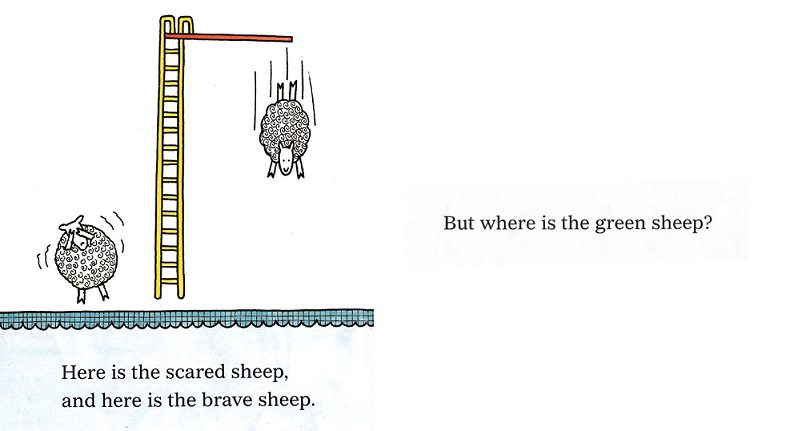 This review is part of Susana Leonard Hill's Perfect Picture Book series. Visit her site to see the other books recommended.