I connected with Gayatri Sethi several years ago over our East African South Asian roots. My admiration for her knowledge and insight regarding racism, anti-Black issues in South Asian culture, and activism has grown the more I get to know her. She is a truly remarkable person.
It gives me great pleasure to share that @mangoandmarigoldpress is launching its twenty first book and second young adult book! Unbelonging is a compilation of free verse & prose intended for a Young Adult audience written by Gayatri Sethi with cover art by Divya Seshadri.
Where do those relegated to the margins find belonging?
In her luminous debut Unbelonging, Gayatri Sethi deftly interweaves verse, memoir, and a bold call to action as she recounts her experience searching for home in the diaspora.
Drawing upon her life story as a Tanzanian-born-Punjabi turned American educator and mother of biracial children, Sethi tells an intimate tale of stepping into her power while confronting misogyny, racism, and empire.
Spanning decades and continents– from Partition to the Black Lives Matter movement, South Africa to Atlanta– Unbelonging tells urgent truths, inspires critical self-reflection, and emboldens its readers to pursue radical forms of justice, compassion, and solidarity.
As part of a giving initiative, @mangoandmarigoldpress will offer sponsored copies (as part of the preorder campaign) of Unbelonging to minoritized students and educators considering this book for inclusion in syllabi, book clubs, professional development or campus programming. You can sponsor a copy for just $10!
The expected ship date is August 2021.
Early Praise for Unbelonging
In this sweeping ode to her ancestors and the homelands intimately tied to her identity, Gayatri infuses a blended stylistic narrative with symphonious self-reflection and an incisive call to action. Unbelonging is a mesmerizing debut about truth and naming, colonization and kinship, and a poetic meditation on what it means to be human. – Anjali Enjeti, Author SOUTHBOUND and THE PARTED EARTH
Unbelonging is a breathtaking, heartfelt, necessary poetry collection. A love letter to the diaspora, Unbelonging embraces readers while challenging them to confront their unspoken privileges. You will leave this book in deep reflection of your own history and identity. You will leave this book closer to your own roots, in touch with your heart and ready to forge a more inclusive future. -Jasmin Kaur, author of when you ask me where I'm going and if I tell you the truth
Gayatri Sethi is an exemplar; a fearless poet with the rare insight to grasp the imperative of addressing anti-Blackness to contextualize her own experiences of xenophobia, racism and gender bias on these shores. Listen carefully—her voice is a gift for this moment and beyond. –Camille Collins, author of The Exene Chronicles
And now for the cover reveal!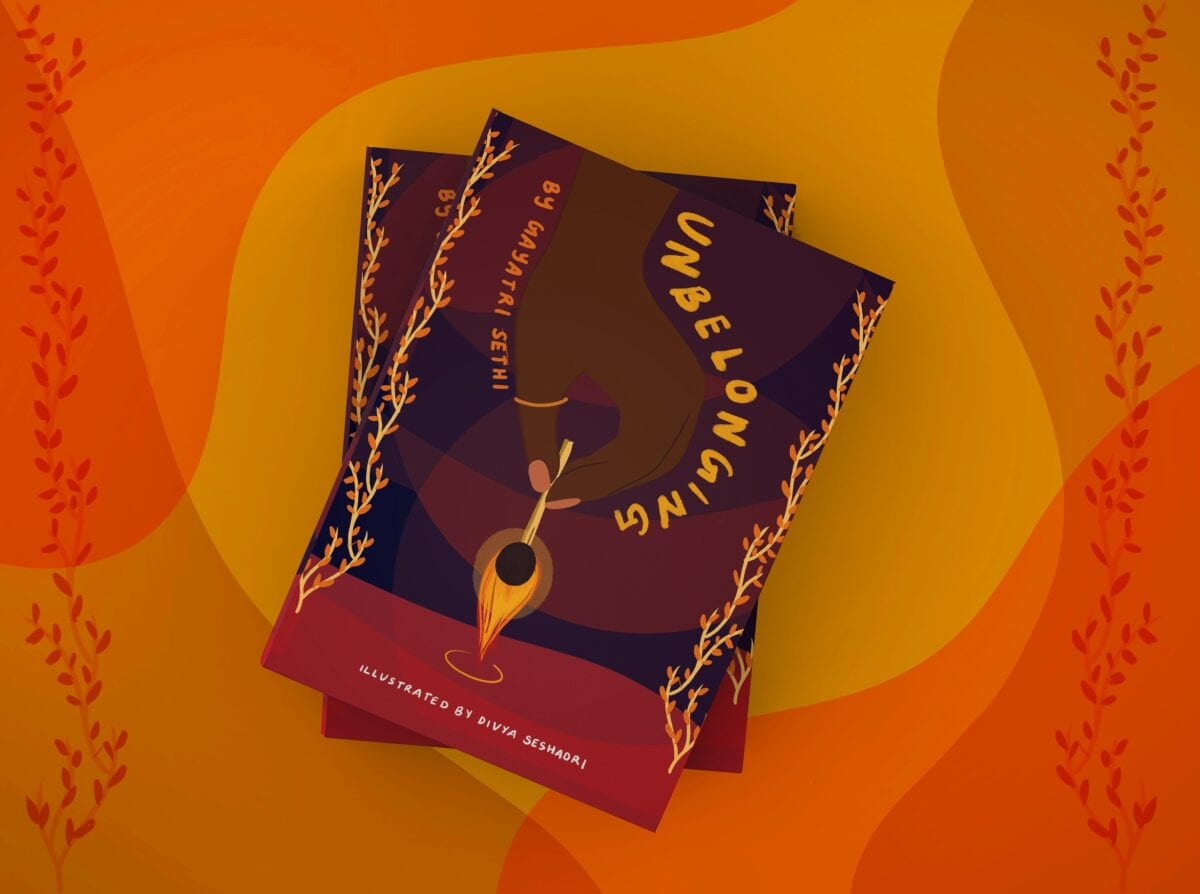 Title: Unbelonging
Author: Gayatri Sethi
Publisher: Mango & Marigold Press, August 2021
Pre-Order Link: https://mangoandmarigoldpress.com/unbelonging