I hope you and your loved ones are doing well and staying safe.
Congratulations to Archaa Shrivastav for receiving the Stonewall Book Award for WE ARE LITTLE FEMINISTS: FAMILIES.
Today's list covers books releasing from March through May of 2021. The books listed below are traditionally published and are either by a South Asian author or illustrator, contains a South Asian main character, or involve South Asian culture. The books are organized by Category and then Publication Date.
For a list of today's books, check out my South Asian Kidlit Spring 2021 list at Bookshop.org.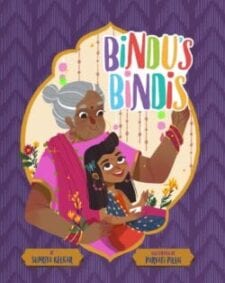 Title: Bindu's Bindis
Author: Supriya Kelkar
Illustrator: Parvati Pillai
Publisher: Sterling Books
Publication Date: March 2, 2021
ISBN: 978-1454940203
Category-Genre: Picture Book
Community Represented: Indian-American
Synopsis:
This charming picture book is about a little girl who loves her bindis (and the many creative shapes they come in!). The bindis are also a connection to her Nani who lives in India. When Nani comes to visit Bindu and brings the bindis to her, it is just in time to wear something new to the school talent show. Bindu and Nani work together to shine their brightest and embrace their sparkle, even when they stand out from the crowd.
Title: Laxmi's Mooch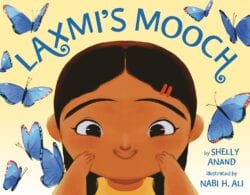 Author: Shelly Anand
Illustrator: Nabi H. Ali
Publisher: Kokila
Publication Date: March 2, 2021
ISBN: 978-1984815651
Category-Genre: Picture Book
Community Represented: Indian-American
Synopsis:
A joyful, body-positive picture book about a young Indian American girl's journey to accept her body hair and celebrate her heritage after being teased about her mustache. Laxmi never paid much attention to the tiny hairs above her lip. But one day while playing farm animals at recess, her friends point out that her whiskers would make her the perfect cat. She starts to notice body hair all over–on her arms, legs, and even between her eyebrows. With her parents' help, Laxmi learns that hair isn't just for heads, but that it grows everywhere, regardless of gender.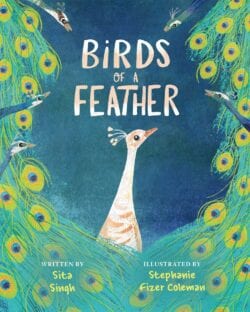 Title: Birds of a Feather
Author: Sita Singh
Illustrator: Stephanie Fizer Coleman
Publisher: Philomel
Publication Date: March 2, 2021
ISBN: 978-0593116449
Category-Genre: Picture Book
Synopsis:
Mo has always felt a little different. While all the other peacocks grew bright, bold, beautiful feathers in rich greens and vibrant blues, Mo's feathers grew in a snowy white. And even though Mo's friends try to include him in their playtime, Mo doesn't like to be reminded that he's different from his friends. But when a storm threatens to ruin the group's annual celebration, Mo must learn to stand tall, strut his stuff, and shake his brilliantly glowing tail feathers–in a way only he can–to help his friends and set things right.
Title: Fatima's Great Outdoors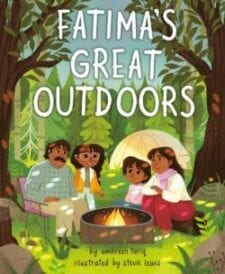 Author: Ambreen Tariq
Illustrator: Stevie Lewis
Publisher: Kokila
Publication Date: March 30, 2021
ISBN: 978-1984816955
Category-Genre: Picture Book
Community Represented: South Asian – American
Synopsis:
Fatima Khazi is excited for the weekend. Her family is headed to a local state park for their first camping trip! The school week might not have gone as planned, but outdoors, Fatima can achieve anything. She sets up a tent with her father, builds a fire with her mother, and survives an eight-legged mutant spider (a daddy longlegs with an impressive shadow) with her sister. At the end of an adventurous day, the family snuggles inside one big tent, serenaded by the sounds of the forest. The thought of leaving the magic of the outdoors tugs at Fatima's heart, but her sister reminds her that they can keep the memory alive through stories–and they can always daydream about what their next camping trip will look like.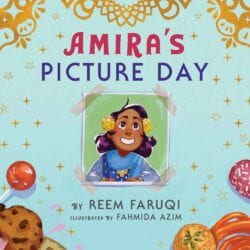 Title: Amira's Picture Day
Author: Reem Faruqi
Illustrator: Fahmida Azim
Publisher: Holiday House
Publication Date: April 6, 2021
ISBN: 978-0823440191
Category-Genre: Picture Book
Community Represented: Muslim-American
Synopsis:
Just the thought of Eid makes Amira warm and tingly inside. From wearing new clothes to handing out goody bags at the mosque, Amira can't wait for the festivities to begin. But when a flier on the fridge catches her eye, Amira's stomach goes cold. Not only is it Eid, it's also school picture day. If she's not in her class picture, how will her classmates remember her? Won't her teacher wonder where she is?
Though the day's celebrations at the mosque are everything Amira was dreaming of, her absence at picture day weighs on her. A last-minute idea on the car ride home might just provide the solution to everything in this delightful story.
Title: Hannah and the Ramadan Gift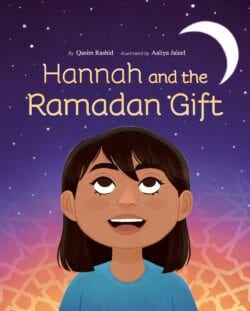 Author: Qasim Rashid
Illustrator: Aaliya Jaleel
Publisher: Viking Books
Publication Date: April 6, 2021
ISBN: 978-0593114667
Category-Genre: Picture Book
Community Represented: Muslim-American
Synopsis:
It's the first day of Ramadan and Hannah wants to be a part of this important month every way she can. But if she's too young to fast, how can she observe Ramadan? By saving the world, Dada Jaan tells her. And so Hannah learns that by helping her friends and neighbors and by showing kindness and generosity, she can make the world a better place.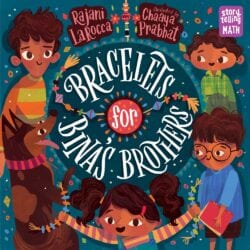 Title: Bracelets for Bina's Brothers
Author: Rajani LaRocca
Illustrator: Chaaya Prabhat
Publisher: Charlesbridge
Publication Date: April 20, 2021
ISBN: 978-1623541293
Category-Genre: Picture Book
Community Represented: Indian-American
Synopsis:
Celebrate diversity, math, and the power of storytelling!
For the Hindu holiday of Raksha Bandhan, Bina is determined to make beaded bracelets for her brothers all by herself. She finds out which colors her brothers like and dislike and sets to work. Working with her every-other-one beading pattern causes Bina to discover something new about patterns–and her brothers.
Title: Halal Hot Dogs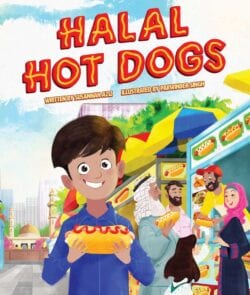 Author: Susannah Aziz
Illustrator: Parwinder Singh
Publisher: Little Bee Books
Publication Date: May 4, 2021
ISBN: 978-1499811575
Category-Genre: Picture Book
Synopsis:
Musa has the perfect idea for his special Jummah treat, but things don't go according to plan. Will Musa be able to get a yummy Jummah treat for his family? Every Friday after Jummah prayer at the masjid, Musa's family has a special Jummah treat. They take turns picking out what the treat will be, but recently the choices have been . . . interesting. Week one, Mama made molokhia. It's perfect for sharing, but gives us molokhia teeth for days! Week two, Baba burned the kufte kebabs on the grill. Week three, Seedi made his favorite riz b'haleeb-creamy rice pudding with pistachio sprinkled on top with an unexpected ingredient. Last week, Maryam brought jellybeans. . . . Finally, it's Musa's turn to pick, and he picks his favorite-halal hot dogs! But actually getting to eat this deliciousness turns into a journey riddled with obstacles. Will he ever get his favorite tasty treat?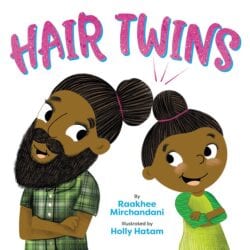 Title: Hair Twins
Author: Raakhee Mirchandani
Illustrator: Holly Hatam
Publisher: Little, Brown Books for Young Readers
Publication Date: May 4, 2021
ISBN: 978-0316495301
Category-Genre: Picture Book
Community Represented: Indian-American
Synopsis:
Every morning Papa combs through his daughter's waves like he does his own — parting it down the middle, using coconut oil to get all the tangles out. Some days he braids her hair in two twists down the side of her face. Other days he weaves it into one long braid hanging down her back, just like a unicorn tail. But her favorite style is when he combs her hair in a tight bun on the top of her head, just like the joora he wears every day under his turban. They call this their hair twin look!
Title: We Move the World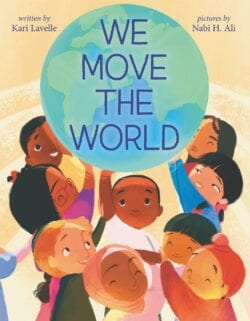 Author: Kari Lavelle
Illustrator: Nabi H. Ali
Publisher: HarperCollins
Publication Date: May 4, 2021
ISBN: 978-0062916853
Category-Genre: Picture Book – Non-Fiction
Synopsis:
An inspiring and empowering picture book about the small things kids do that have the potential to change the world! Meet some of the world's most beloved movers, shakers, scientists, activists, dreamers and doers—in this inspirational book by debut author Kari Lavelle, who gently reminds us that before folks like Ruth Bader Ginsberg, Neil Armstrong, Martin Luther King, Jr., and Sylvia Townsend were activists and trailblazers, they spoke their first words, took their first steps, and dreamed about the future. We Move the World introduces these folks and more from the past and present as models for what every childhood first can lead to. From first steps to solving puzzles and learning the alphabet, all the small things are only the beginning. They can lead to future activism and innovation that just might change the world!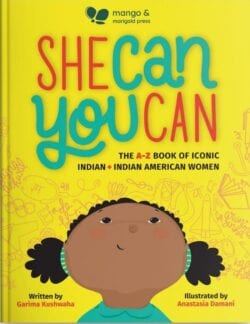 Title: She Can You Can
Author: Garima Kushwaha
Illustrator: Anastasia Damani
Publisher: Mango & Marigold Press
Publication Date: May 2021
ISBN: TBD
Category-Genre: Picture Book – Non-Fiction
Community Represented: Indian/Indian-American
Synopsis:
An alphabetic book that catalogs the lives of inspirational Indian women. From A for the scientist Anita Goel to Z for the prolific performer Zohra Seghal; this book celebrates Indian and Indian-American women who have paved the way for generations to come and who have forever redefined what it means to be enterprising, confident and most importantly, fearless.
Title: Nina Soni, Master of the Garden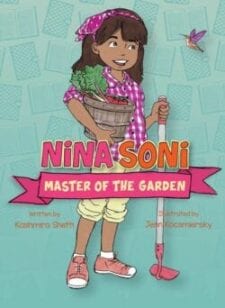 Author: Kashmira Seth
Illustrator: Jenn Kocsmiersky
Publisher: Peachtree Publishing Company
Publication Date: April 1, 2021
ISBN:  978-1682632253
Category-Genre: Chapter Book
Community Represented: Indian-American
Synopsis:
It's Take Your Child to Work Day, and Nina, Kavita, and Jay are all going to work with Mom, a landscape architect, to learn how to start a garden. Naturally that's not enough for Nina, who quickly develops big plans for a business selling the vegetables she plans to grow. But her plans don't include managing the problems that inevitably arise, including rabbits, slugs, mosquitos, and more!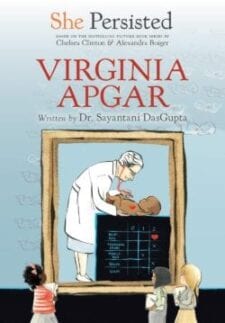 Title: She Persisted: Virginia Apgar 
Author: Sayantani DasGupta and Chelsea Clinton
Illustrator: Gillian Flint and Alexandra Boiger
Publisher: Philomel Books
Publication Date: April 1, 2021
ISBN: 978-0593115770
Category-Genre: Chapter Book – Non Fiction Biograph
Synopsis:
There weren't many women who tried to become doctors when Virginia Apgar went to medical school—but she didn't let that stop her. After a professor discouraged from becoming a surgeon, she became an anesthesiologist instead and created the famous Apgar test to check the health of newborn babies. It's a test that's still used in hospitals across the world today!
Title: Gopi Diaries: Finding Love (Book #2)

Author: Sudha Murty
Illustrator: Sandhya Prahbat
Publisher: Harper Children's
Publication Date: May 4, 2021
ISBN: 978-9390351619
Category-Genre: Chapter Book
Community Represented: Indian
Synopsis:
In this second book in the bestselling Gopi Diaries series, Gopi is stronger, bigger, more confident than the little pup he was in the first book, but he is also cheekier and more mischievous! He faces new situations, new challenges, even new dog companions with endless energy and spirit. And then comes the day when he faces the biggest surprise of them all…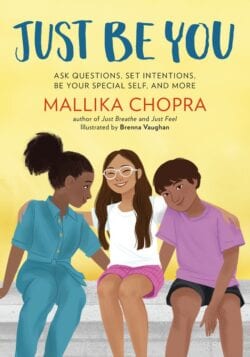 Title: Just Be You: Ask Questions, Set Intentions, Be Your Special Self, and More
Author: Mallika Chopra
Illustrator: Brenna Vaughan
Publisher: Running Press Kids
Publication Date: March 2, 2021
ISBN: 978-0762471225
Category-Genre: Middle Grade – Self-Help Guide
Synopsis:
An engaging, easy-to-read guide for young kids to learn tools that will help them live a good life. The United States and other nations are quickly becoming aware of the importance of children's ability to be independent and meet challenges head on; parents are eager for resources that help kids learn how to navigate life on their own. Just Be You will help kids become focused on growth mindset by self-reflection, setting intentions for their lives, and being of service to themselves, their families, and the global community. Designed specifically with kids ages 8-12 in mind and with full-color illustrations throughout, Mallika's book offers mindful exercises to help young people explore and find their voice. Mallika believes that if children learn early on to reflect, to be comfortable with uncertainty, to contribute in a way that's unique to them, and to feel good about the journey, they will lead healthier, more adjusted, and happier lives.
Title: Amina's Song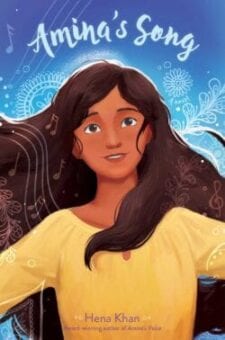 Author: Hena Khan
Publisher: Salaam Reads
Publication Date: March 9, 2021
ISBN: 978-1534459885
Category-Genre: Middle Grade – Contemporary
Community Represented: Pakistani-American
Synopsis:
It's the last few days of her vacation in Pakistan, and Amina has loved every minute of it. The food, the shops, the time she's spent with her family—all of it holds a special place in Amina's heart. Now that the school year is starting again, she's sad to leave, but also excited to share the wonders of Pakistan with her friends back in Greendale. After she's home, though, her friends don't seem overly interested in her trip. And when she decides to do a presentation on Pakistani hero Malala Yousafzai, her classmates focus on the worst parts of the story. How can Amina share the beauty of Pakistan when no one wants to listen?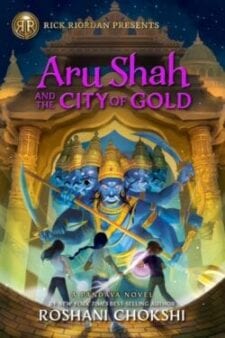 Title: Aru Shah and the City of Gold
Author: Roshani Choksi
Publisher: Rick Riordan Presents
Publication Date: April 6, 2021
ISBN: 978-1368013864
Category-Genre: Middle Grade – Fantasy
Synopsis:
Aru Shah and her sisters–including one who also claims to be the Sleeper's daughter–must find their mentors Hanuman and Urvashi in Lanka, the city of gold, before war breaks out between the devas and asuras. Aru has just made a wish on the tree of wishes, but she can't remember what it was. She's pretty sure she didn't wish for a new sister, one who looks strangely familiar and claims to be the Sleeper's daughter, like her. Aru also isn't sure she still wants to fight on behalf of the devas in the war against the Sleeper and his demon army. The gods have been too devious up to now. Case in point: Kubera, ruler of the city of gold, promises to give the Pandavas two powerful weapons, but only if they win his trials. If they lose, they won't stand a chance against the Sleeper's troops, which will soon march on Lanka to take over the Otherworld. Aru's biggest question, though, is why every adult she has loved and trusted so far has failed her. Will she come to peace with what they've done before she has to wage the battle of her life?
Title: The Sinister Substitute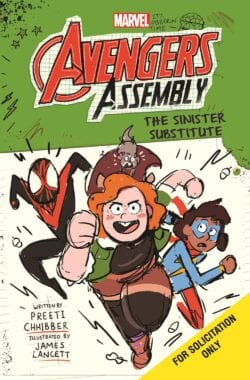 Author: Preeti Chhibber
Illustrator: James Lancett
Publisher: Scholastic Inc.
Publication Date: April 6, 2021
ISBN: 978-1338587197
Category-Genre: Middle Grade – Superheroes
Synopsis:
Kamala, Doreen, and Miles are back at Avengers Assembly for a new semester! When Captain Marvel announces she's adding staff to the school, the students aren't sure who could possibly join — but it looks like Cap went above and beyond, and the school is full of new teachers!
With all these new teachers, it's hard to keep track of who's teaching what, and what they're supposed to be learning. And some of these teachers are really not acting like heroes at all, but more like… super-villains? All that new staff has created a lot of confusion that is ripe for exploiting! Someone is impersonating students and teachers, using lies and deception to break up the new generation of heroes. Can Doreen and her friends get to the bottom of this scandal? Or will this be the end of the Avengers Assembly?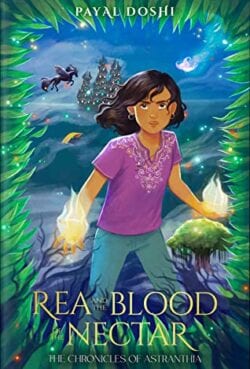 Title: Rea and the Blood of Nectar
Author: Payal Doshi
Publisher: Mango & Marigold Press
Publication Date: May 2021
ISBN: 9781645437635
Category-Genre: Middle Grade – Fantasy
Synopsis:
It all begins on the night Rea turns twelve. After a big fight with her twin brother Rohan on their birthday, Rea's life in the small village of Darjeeling, India, gets turned on its head. It's four in the morning and Rohan is nowhere to be found. It hasn't even been a day and Amma acts like Rohan's gone forever. Her grandmother, too, is behaving strangely. Unwilling to give up on her brother, Rea and her friend Leela meet Mishti Daadi, a wrinkly old fortune-teller whose powers of divination set them off on a secret quest. In the shade of night, they portal to an otherworldly realm of Astranthia, a land full of magic and whimsy. Struggling with the truth her Amma has kept hidden from her, Rea must solve clues that lead to Rohan, find a way to rescue him and save Astranthia from a potentially deadly fate. But the clock is ticking. Can she rescue Rohan, save Astranthia, and live to see it all?
Title: Force of Fire

Author: Sayatani DasGupta
Publisher: Scholastic Press
Publication Date: May 18, 2021
ISBN: 978-1338636642
Category-Genre: Middle Grade – Fantasy
Synopsis:
Pinki hails from a long line of rakkhosh resisters, demons who have spent years building interspecies relationships, working together to achieve their goal of overthrowing the snakey oppressors and taking back their rights. But she has more important things to worry about, like maintaining her status as fiercest rakkhosh in her class and looking after her little cousins. There is also the teeny tiny detail of not yet being able to control her fire breathing and accidentally burning up school property. Then Sesha, the charming son of the Serpentine Governor, calls on Pinki for help in defeating the resistance, promising to give her what she most desires in return — the ability to control her fire. First she'll have to protect the Moon Maiden, pretend to be a human (ick), and survive a family reunion. But it's all worth it for the control of her powers . . . right?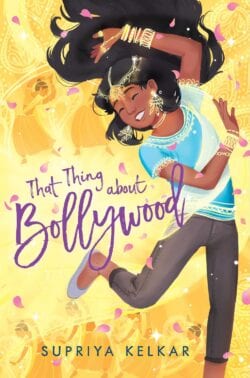 Title: That Thing About Bollywood
Author: Supriya Kelkar
Publisher: Simon & Schuster Books for Young Readers
Publication Date: May 18, 2021
ISBN: 978-1534466739
Category-Genre: Middle Grade
Community Represented: Indian-American
Synopsis:
You know how in Bollywood when people are in love, they sing and dance from the mountaintops? Eleven-year-old Sonali wonders if they do the same when they're breaking up. The truth is, Sonali's parents don't get along, and it looks like they might be separating. Sonali's little brother, Ronak, is not taking the news well, constantly crying. Sonali would never do that. It's embarrassing to let out so many feelings, to show the world how not okay you are. But then something strange happens, something magical, maybe. When Sonali gets upset during a field trip, she can't bury her feelings like usual—instead, she suddenly bursts into a Bollywood song-and-dance routine about why she's upset! The next morning, much to her dismay, Sonali's reality has shifted. Things seem brighter, almost too bright. Her parents have had Bollywood makeovers. Her friends are also breaking out into song and dance. And somehow, everyone is acting as if this is totally normal. Sonali knows something has gone wrong, and she suspects it has something to do with her own mismanaged emotions. Can she figure it out before it's too late?
Title: American Betiya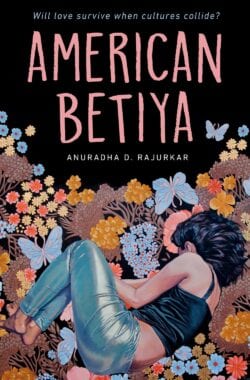 Author: Anuradha D. Rajukar
Publisher: Knopf Books for Young Readers
Publication Date: March 9 , 2021
ISBN: 978-1984897152
Category-Genre: Young Adult – Contemporary
Community Represented: Indian-American
Synopsis:
Rani Kelkar has never lied to her parents, until she meets Oliver. The same qualities that draw her in–his tattoos, his charisma, his passion for art–make him her mother's worst nightmare. They begin dating in secret, but when Oliver's troubled home life unravels, he starts to ask more of Rani than she knows how to give, desperately trying to fit into her world, no matter how high the cost. When a twist of fate leads Rani from Evanston, Illinois to Pune, India for a summer, she has a reckoning with herself–and what's really brewing beneath the surface of her first love.
An honest look at the ways cultures can clash in an interracial relationship. Braiding together themes of sexuality, artistic expression, and appropriation, she gives voice to a girl claiming ownership of her identity, one shattered stereotype at a time.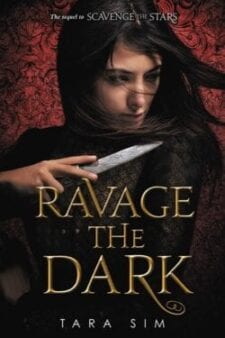 Title: Ravage the Dark
Author: Tara Sim
Publisher: Little Brown & Co
Publication Date: March 9, 2021
ISBN: 978-0759555334
Category-Genre: Young Adult – Fantasy
Synopsis:
For seven long years, while she was imprisoned on a debtor's ship, Amaya Chandra had one plan: to survive. But now, survival is not enough. She has people counting on her; counting on her for protection, for leadership, for vengeance. And after escaping Moray by the skin of her teeth, she's determined to track down the man who betrayed her and her friends. Cayo Mercado has lost everything: his money, his father, his reputation. Everything except his beloved sister. But he's well on his way to losing her, too, with no way to afford the treatment for her deadly illness. In a foreign empire also being consumed by ash fever, Cayo has no choice but to join Amaya in uncovering the mystery of the counterfeit currency, the fever, and how his father was involved in their creation. But Cayo still hasn't forgiven Amaya for her earlier deception, and their complicated feelings for each other are getting harder and harder to ignore. Through glittering galas, dazzling trickery, and thrilling heists, Cayo and Amaya will learn that the corruption in Moray goes far deeper than they know, and in the end the only people they can trust are each other.
Title: The Theft of Sunlight (Book #2 Dauntless Path)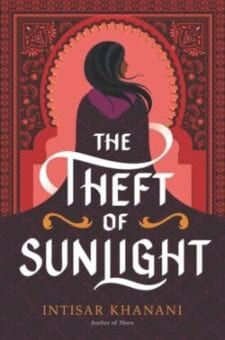 Author: Intisar Khanani
Publisher: HarperTeen
Publication Date: March 23, 2021
ISBN: 978-0062835741
Category-Genre: Young Adult – Fantasy
Synopsis:
Children have been disappearing from Menaiya for longer than Amraeya ni Ansarim can remember. Snatched from the streets, never to be seen again—or returned with unspeakable trauma. When her friend's sister is snatched, Rae knows she can't look away any longer – even if that means seeking answers from the royal court, where her country upbringing and clubfoot will only invite ridicule. Yet the court holds its share of surprises. There she discovers an ally in the foreign princess, who recruits her as an attendant. Armed with the princess's support, Rae seeks answers in the dark city streets, finding unexpected help in a rough-around-the-edges street thief with secrets of his own. But treachery runs deep, and the more Rae uncovers, the more she endangers herself, and even the kingdom itself.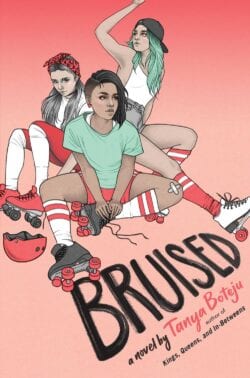 Title: Bruised
Author: Tanya Boteju
Publisher: Simon & Schuster Books for Young Readers
Publication Date: March 23, 2021
ISBN: 978-1534455023
Category-Genre: Young Adult – Contemporary
Community Represented: Sri-Lankan-American, LGBTQ+
Synopsis:
To Daya Wijesinghe, a bruise is a mixture of comfort and control. Since her parents died in an accident she survived, bruises have become a way to keep her pain on the surface of her skin so she doesn't need to deal with the ache deep in her heart. So when chance and circumstances bring her to a roller derby bout, Daya is hooked. Yes, the rules are confusing and the sport seems to require the kind of teamwork and human interaction Daya generally avoids. But the opportunities to bruise are countless, and Daya realizes that if she's going to keep her emotional pain at bay, she'll need all the opportunities she can get. The deeper Daya immerses herself into the world of roller derby, though, the more she realizes it's not the simple physical pain-fest she was hoping for. Her rough-and-tumble teammates and their fans push her limits in ways she never imagined, bringing Daya to big truths about love, loss, strength, and healing.
Title: Misfit in Love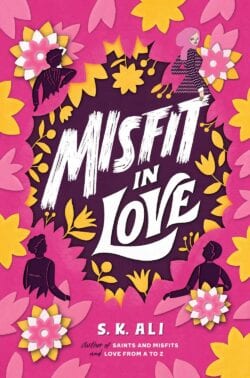 Author: S. K. Ali
Publisher: Salaam Reads/ S&S Books for Young Readers
Publication Date: May 25, 2021
ISBN: 978-1534442757
Category-Genre: Young Adult – Contemporary
Community Represented: Arab-Indian-American, Muslim-American
Synopsis:
In this fun and fresh sequel to Saints and Misfits, Janna hopes her brother's wedding will be the perfect start to her own summer of love, but attractive new arrivals have her more confused than ever.
Janna Yusuf is so excited for the weekend: her brother Muhammad's getting married, and she's reuniting with her mom, whom she's missed the whole summer. And Nuah's arriving for the weekend too. Sweet, constant Nuah. The last time she saw him, Janna wasn't ready to reciprocate his feelings for her. But things are different now. She's finished high school, ready for college…and ready for Nuah. It's time for Janna's (carefully planned) summer of love to begin—starting right at the wedding. But it wouldn't be a wedding if everything went according to plan. Muhammad's party choices aren't in line with his fiancée's taste at all, Janna's dad is acting strange, and her mom is spending more time with an old friend (and maybe love interest?) than Janna. And Nuah's treating her differently. Just when things couldn't get more complicated, two newcomers—the dreamy Haytham and brooding Layth—have Janna more confused than ever about what her misfit heart really wants. Janna's summer of love is turning out to be super crowded and painfully unpredictable.
Title: Zara Hossain is Here
Author: Sabina Khan
Publisher: Scholastic Press
Publication Date: April 6, 2021
ISBN: 978-1338580877
Category-Genre: Young Adult
Community Represented: Pakistani-American
Synopsis:
Seventeen-year-old Pakistani immigrant, Zara Hossain, has been leading a fairly typical life in Corpus Christi, Texas, since her family moved there for her father to work as a pediatrician. While dealing with the Islamophobia that she faces at school, Zara has to lay low, trying not to stir up any trouble and jeopardize their family's dependent visa status while they await their green card approval, which has been in process for almost nine years.
Title: Counting Down with You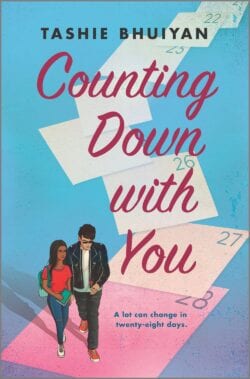 Author: Tashie Bhuiyan
Publisher: Inkyard Press
Publication Date: May 4, 2021
ISBN: 978-1335209979
Category-Genre: Young Adult
Community Represented: Bangladeshi-American
Synopsis:
Karina Ahmed has a plan. Keep her head down, get through high school without a fuss, and follow her parents' rules—even if it means sacrificing her dreams. When her parents go abroad to Bangladesh for four weeks, Karina expects some peace and quiet. Instead, one simple lie unravels everything. Karina is my girlfriend. Tutoring the school's resident bad boy was already crossing a line. Pretending to date him? Out of the question. But Ace Clyde does everything right—he brings her coffee in the mornings, impresses her friends without trying, and even promises to buy her a dozen books (a week) if she goes along with his fake-dating facade. Though Karina agrees, she can't help but start counting down the days until her parents come back. T-minus twenty-eight days until everything returns to normal—but what if Karina no longer wants it to?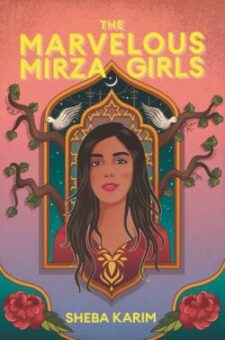 Title: The Marvelous Mirza Girls
Author: Sheba Karim
Publisher: Quill Tree Books
Publication Date: May 18, 2021
ISBN: 978-0062845481
Category-Genre: Young Adult – Contemporary
Community Represented: Pakistani-American, Muslim-American, Indian
Synopsis:
To cure her post-senior year slump, made worse by the loss of her aunt Sonia, Noreen decides to follow her mom on a gap year trip to New Delhi, hoping India can lessen her grief and bring her voice back. In the world's most polluted city, Noreen soon meets kind, handsome Kabir, who introduces her to the wonders of this magical, complicated place. With the help of Kabir—plus Bollywood celebrities, fourteenth-century ruins, karaoke parties, and Sufi saints—Noreen discovers new meanings for home. But when a family scandal erupts, Noreen and Kabir must face complex questions in their own relationship: What does it mean to truly stand by someone—and what are the boundaries of love?
Title: Hani and Ishu's Guide to Fake Dating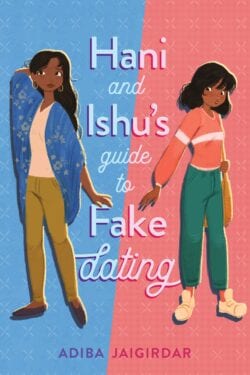 Author: Adiba Jaigirdar
Publisher: Page Street Kids
Publication Date: May 25, 2021
ISBN: 978-1645672579
Category-Genre: Young Adult – Romantic Comedy
Community Represented: Bangladeshi-British
Synopsis:
Everyone likes Humaira "Hani" Khan―she's easy going and one of the most popular girls at school. But when she comes out to her friends as bisexual, they invalidate her identity, saying she can't be bi if she's only dated guys. Panicked, Hani blurts out that she's in a relationship…with a girl her friends absolutely hate―Ishita "Ishu" Dey. Ishu is the complete opposite of Hani. She's an academic overachiever who hopes that becoming head girl will set her on the right track for college. But Ishita agrees to help Hani, if Hani will help her become more popular so that she stands a chance of being elected head girl. Despite their mutually beneficial pact, they start developing real feelings for each other. But relationships are complicated, and some people will do anything to stop two Bengali girls from achieving happily ever after.