I am so excited to share that Mango & Marigold Press has partnered with Brown Girl Magazine to launch its sixteenth book (and first young adult book ever!) untold: defining moments of the uprooted, which is perfect for anyone 16+.
untold: defining moments of the uprooted is a collection of real stories that explores the South Asian experience in the U.S., U.K., and Canada through the lens of identity, being, and relationships. Thirty emerging voices share deeply personal moments of immigration, infertility, divorce, mental health, suicide, racisi\m, colorism, LGBTQ+ issues, and more all while balancing the push and pull of belonging to two cultural hemispheres. Every story sheds light on the authentic truths of living as womxn with hyphenated identities that have been only whispered-until now.
With this launch, @mangoandmarigoldpress is also continuing its #1001DiverseBooks program, to help not only bridge the diversity gap but also the accessibility gap in young adult literature. With each new book launch, Mango and Marigold Press is committed to also raise the funds to donate 1001 books to literacy and advocacy nonprofits that are working across the country to help those in need. Some of their past partners include Behind the Book, the Children's Book Consul, the City of Cambridge, the City of Somerville and several more.
They need your help to make their vision a reality. Will you be a part of the change to end the diversity gap AND accessibility gap? When you pre-order your copy of untold: defining moments of the uprooted, you can also sponsor a copy for our nonprofit partner for only $10!
For all pre-orders placed between July 21st through July 28th, 2020 you will receive an immediate excerpt from the three of the 30 stories. Here's a sneak peak of the three stories.
'BEING': Poor Obstetric Outcome
'IDENTITY' Coming Out Again (And Again)
'RELATIONSHIPS' The Good Guy
The expected ship date for the anthology is January 2021.
Early Praise for Untold Stories
"These deeply personal, stirring, poetic accounts will knock the wind out of you. This collection lifts the veil from the South Asian diaspora, illuminating lived experiences that have for too long been considered taboo." — Padma Lakshmi, 
"A fascinating collection of deeply personal essays, each author shares what is at once a relatable and unique journey through complex identities, acceptance, and the most unifying theme — our desire for love." — Kal Penn, actor, writer, producer 
"Too often, only a certain type of South Asian story is allowed to enter the Western cultural lexicon. 'untold' is a battering ram that breaks through those barriers and offers something more." — Sopan Deb, New York Times writer and author of Missed Translations: Meeting The Immigrant Parents Who Raised Me
"A vivid, vital, and necessary contribution to the understanding of the South Asian diaspora. The range and depth of its narratives will resonate for ages to come."  — DJ Rekha, producer, curator, and activist
"These moments will leave your heart aching and feeling inspired, all at the same time. But more than anything else, they will empower you to pick up the phone, grab a pen, or get behind your laptop to bravely tell your own story."  — Reshma Saujani, founder and CEO of Girls Who Code
And now for the cover reveal!!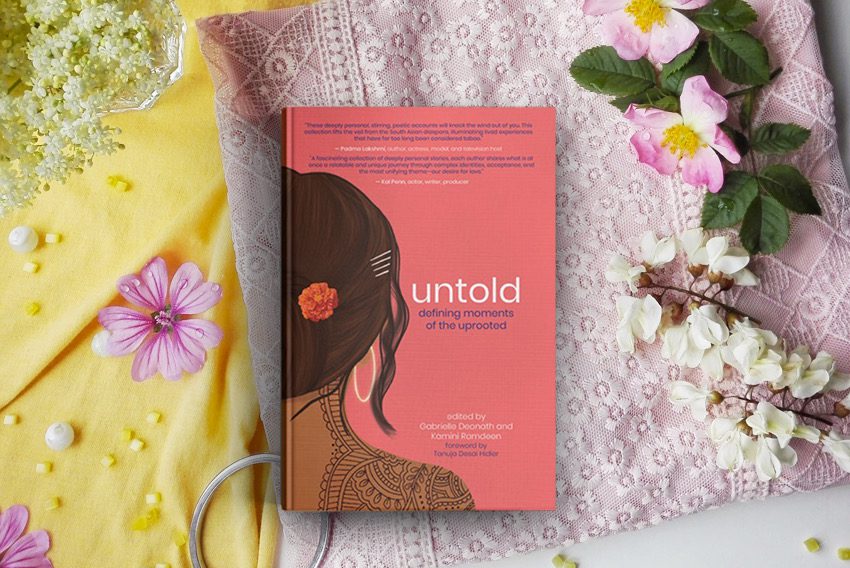 Title: untold: defining moments of the uprooted
Editors: Gabrielle Deonath and Kamini Ramdeen
Contributors: MK Ansari, Apoorva Verghese, Jessie Brar, Kimberly + Anantha, Nupur Chaudhury, Pooja Kumarhia Patel, Priyal Sakhuja, Subrina Singh, Amrisa Niranjan, Hena Wadhwa, Julie Lalwani, Meera Estrada, Nova Aftab, Radhika Patel, Ravleen Kaur, Rita Sengupta, Shimul Chowdhury, Gabrielle Deonath, Raksha Muthukumar, Anita Wadhwani, Chandra Coats, Duriba Khan, Neha Patel, Nina Malagi, Nisha Singh, Rajvir Gill, Saahil Mehta, Radhika Menon, Aishwarya Sukesh
Publisher: Mango & Marigold Press, January 2021
Pre-Order Link: https://mangoandmarigoldpress.com/untold