Title: Earth! My First 4.54 Billion Years
Author: Stacy McAnulty
Illustrator: David Litchfield
Publisher: Henry Holt, 2018
Editor: Sally Doherty
Book Type: Fiction
Ages: 4-8
Theme: Earth, Space
Opening Lines:
Hi! My name is Earth.
Some people call me Gaia, the World, the blue marble, or the third planet from the sun.
You can call me Planet Awesome.
Synopsis (from Amazon website):
Prepare to learn all about Earth from the point-of-view of Earth herself! In this funny yet informative book, filled to the brim with kid-friendly facts, readers will discover key moments in Earth's life, from her childhood more than four billion years ago all the way up to present day. Beloved children's book author Stacy McAnulty helps Earth tell her story, and award-winning illustrator David Litchfield brings the words to life. The book includes back matter with even more interesting tidbits.
Activites:
Why I Like This Book:
A brilliant approach to a topic that has been written about many, many times. The author cleverly portrays Earth with a child-like persona which is warm and inviting and most importantly relatable for young readers.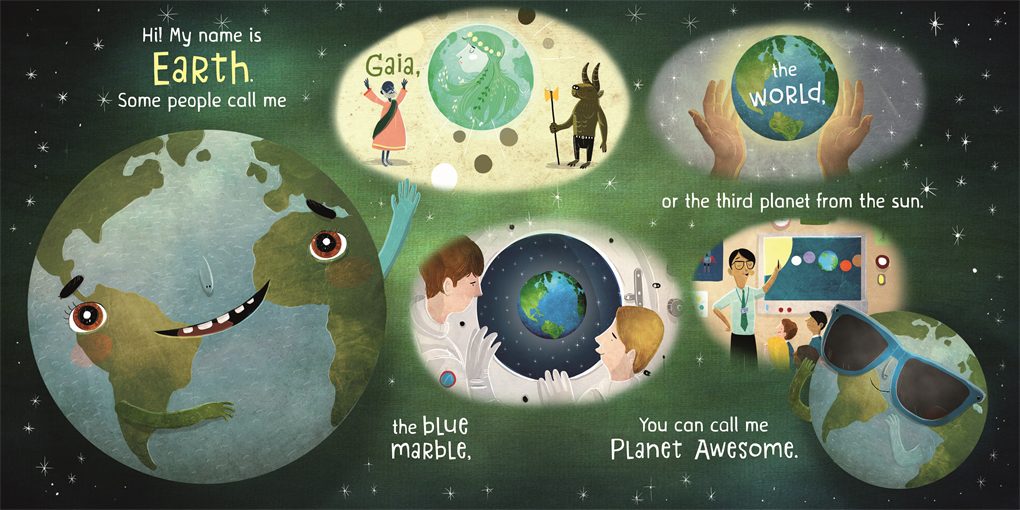 The reader learns about Earth's siblings (other planets in the solar system), friends (Moon), favorite activities (spinning and circling the Sun).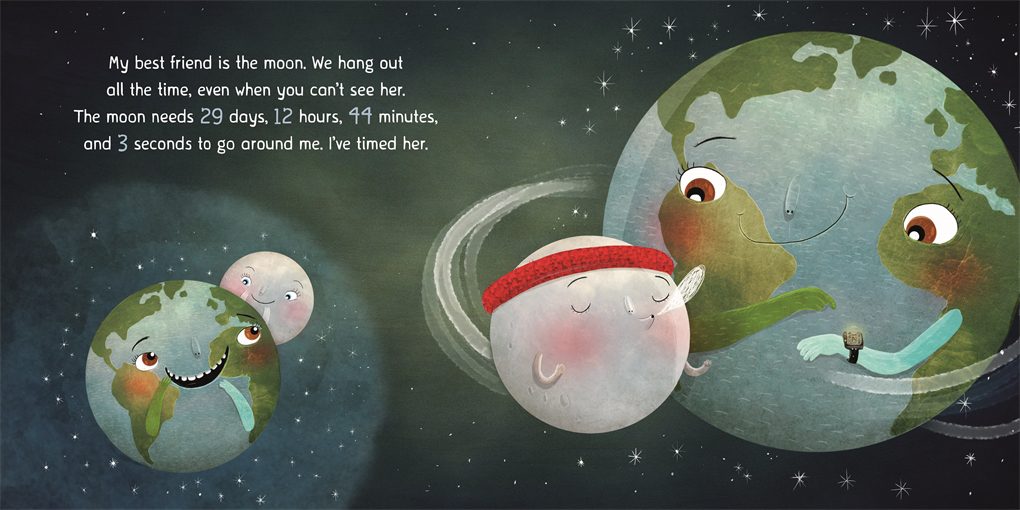 Not to worry there is also something for the adult reader too. Check out this funny pun which is a nod to parenting.
"I don't remember what it was like to be a baby. Who does? But I've been told I was a hot mess.
Explosive. Gassy! Very cranky."
There is a wonderful timeline with major events (presence of air, insects, dinosaurs, flowers, homo sapiens) shown against a ruler to help the reader get a grasp of the massive time scale.
The book does touch on the rough times Earth has had with asteroids, volcanoes, and ice ages. While it can seem scary, the author does a good job of reassuring the young reader that Earth is still the same on the inside and continues on. The book ends on a note of environmentalism.
The art is cute and inviting with bold colors. It is rendered through a combination of pencils, ink, watercolor paints, and digital art tools.
There is additional backmatter regarding the continents, the location of Earth in space, and the five major extinctions and a bibliography.
A great book for a preschool, lower elementary, or home library.
Find Earth! My First 4.54 Billion Years at the following spots:
Amazon | Barnes & Noble | Indiebound | Goodreads
ISBN-10: 125010808X
ISBN-13: 978-1250108081
Disclosure: I received my copy of this book from the publisher. This review nevertheless reflects my own and honest opinion about the book.