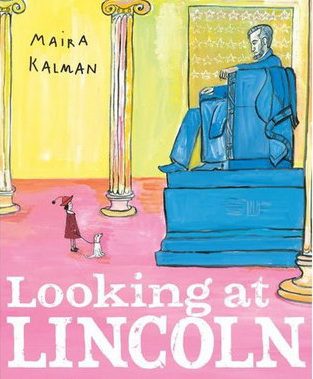 Title: Looking at Lincoln
Author & Illustrator: Maira Kalman
Check out the interview (Seven Impossible Things Before Breakfast)
Publisher: Nancy Paulsen Books, 2012
Book Type: Non-Fiction
Ages: 5-10
Themes: Presidents, Civil War, American History
Synopsis (from Amazon website):
Abraham Lincoln is one of the first giants of history children are introduced to, and now Maira Kalman brings him to life with her trademark style and enthusiasm. Lincoln's legacy is everywhere – there he is on your penny and five-dollar bill. And we are still the United States because Lincoln helped hold them together.
But who was he, really? The little girl in this book wants to find out. Among the many other things, she discovers our sixteenth president was a man who believed in freedom for all, had a dog named Fido, loved Mozart, apples, and his wife's vanilla cake, and kept his notes in his hat. From his boyhood in a log cabin to his famous presidency and untimely death, Kalman shares Lincoln's remarkable life with young readers in a fresh and exciting way.
Activities:
This book was based off an on-line tribute that Maira Kalman authored and illustrated for the New York Time in 2009. I highly recommend checking out.
ProTeacher! website contains links to for various Abraham Lincoln classroom activities: crossword puzzles, lesson plans, reading list, etc.
PBS documentary series "Abraham and Mary Lincoln: A House Divided" may be interesting for older students and adults. I just found out about it, looks interesting.
Why I Like This Book:
Beautiful tribute with a contemporary voice and bright, bold colored gouche illustrations that will hook any reader young or old. This is not your typical picture book biography.
The story reads as if you are listening to a friend tell you about her day
"One day, while walking through the park on my way to breakfast I saw a very tall man. He reminded me of someone, but I could not think who … And then I remembered. The man I had seen looked exactly like Abraham Lincoln."
The author doesn't just spew out a lot of facts but also theorizes about Lincoln's thoughts, reminding readers that our 16th president was just an ordinary person too.
"What was he thinking about? He was thinking about democracy … And maybe he was also thinking about getting a birthday present for his little son.  Maybe a whistle. Or pickup sticks."
Text which are the narrator's thoughts are in a different font from the factual information.
The highlights of this book are the illustrations. Especially the final few pages. The spread about the assassination, with the pistol on the left with the empty rocking chair and fallen top hat on the right made me pause for a bit. Equally moving in an uplifting way are the final two spreads letting readers know that Abraham Lincoln will live FOREVER.

The book also has Notes and Bibliography sources at the end.
I loved this book, except for one topic which really bothered me, regarding the reason the Northern and Southern states went to war. In a picture book format for young kids facts, thoughts, the truth will be bent sometimes as the topic maybe too complicated or not appropriate for young readers. Below is the text that concerns me:
It was a difficult time to be president.
The Southern states (the Confederacy) wanted
their own country where slavery was allowed.
Lincoln said no. We must stay one country.
The Northern states (the Union) believed
that slavery should be abolished.
And so they went to war.
While the text does reference the Southern states wanting to secede and the North (Lincoln) saying no. The text implies that the issue was slavery, which would be an oversimplification. Wouldn't it be better to simply state that the Southern states wanted to create their own country without giving a reason, thereby leaving it up to the teacher/parent/librarian to answer the child's question of why, or that the Southern states wanted state governments to have more power. Neither of these alternate choices are much better, but I still think that would be more accurate than to say the Civil War was fought over humanitarian reasons. What do you think?
This review is part of Susanna Leonard Hill's Perfect Picture Book series. Visit her site to see the other books recommended. PPBF is on hiatus for the summer, however I will still continue to post book reviews. I may try different formats and may try to squeeze in one or two MG novels. As a result I may not have a consistent posting schedule for the summer, but rest assured I am still very interested in telling you about great children's books.
If you would like to stay current with what I am reading, click Goodreads and then click on "follow reviews" button to get my updates.