Title: Mina vs. the Monsoon
Author: Rukhsanna Guidroz
Illustrator: Debasmita Dasgupta
Publisher: Yali Books, 2018
Book Type: Fiction
Ages: 4-8
Theme: Multicultural, soccer
Opening:
Mina was feeling sad.
She was watching peacocks walk past the mango tree outside her house, when one of them let out a piercing cry. Mina knew the monsoon rains were coming. She was going to be stuck indoors all day.
Synopsis (from Amazon website):
Mina loves to play soccer all year round. Nothing comes close to it. But when the monsoon arrives, Mina is stuck indoors and she can't help feeling restless and bored. Her ammi doesn't understand. The doodhwalla doesn't understand. That's when Mina decides she'll find ways of chasing away the clouds herself. In doing so, she makes an unexpected discovery. Soccer will never be the same again for Mina!
In a charming story that any kid who loves a sport will relate to, soccer-mad Mina tries just about any trick to stop the monsoon clouds from raining on her game. In doing so, she shows us glimpses of her life in a village in eastern India, highlighting the important role played by monsoon rains in this part of the world. The heart of the story, however, is the bond forged between a mother and her daughter on a gray, gloomy day.
Activities:
Why I Like This Book:
A delightful book for any child who has ever longed for something and wishing somebody else understood.
Mina is a soccer-loving girl from a rural village in India. Mina is feeling blue about the impending monsoon rains. Her mother appears to be unaware of Mina's passion for soccer as she suggests having chai and samosa instead. Spunky Mina is not about to give up and tries one thing after another to chase away the rain. During this time we learn about Indian village life: tablas that beat din-din-dah, the doodhwalla with his milk cans, Indian clothing and dance, and the importance of the monsoons. Mina stumbles upon an item she hasn't seen before which leads to a heartfelt bond between Mina and her mom.
I love the rustic and colorful art which nicely complements Mina's energy and the specificity of the South Asian village life. The author seamlessly sprinkles in some Hindi and Urdu words giving the book a richer feel. A glossary can be found in the back.
A wonderful book for those new to South Asian culture and those already familiar.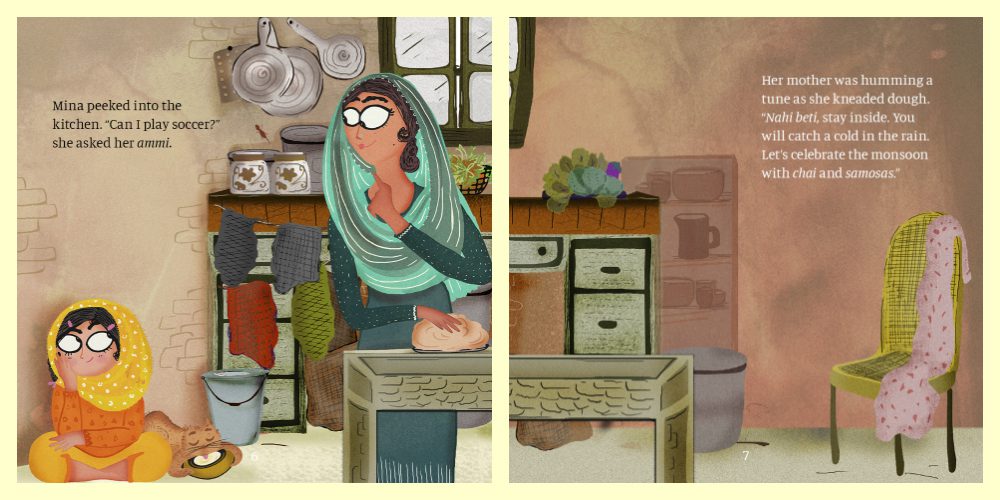 Find Mina vs. the Monsoon at the following spots:
Amazon | Barnes & Noble | Yali Books | Goodreads
ISBN-10: 1949528987
ISBN-13: 978-1949528985
This review is part of Susanna Leonard Hill's Perfect Picture Book series. Visit her site to see the other books recommended.
Disclosure: I received my copy of this book from the publisher. This review nevertheless reflects my own and honest opinion about the book.