It's that time of the year to tally up. Here are my stats according to GoodReads.
TOTAL BOOKS READ IN 2016 = 255
5 Adult;  11 YA;  6 MG;  2 CB/ER; 231 PB
Listed below are my favorite reads from this year. This list contains titles published in 2016 and past years.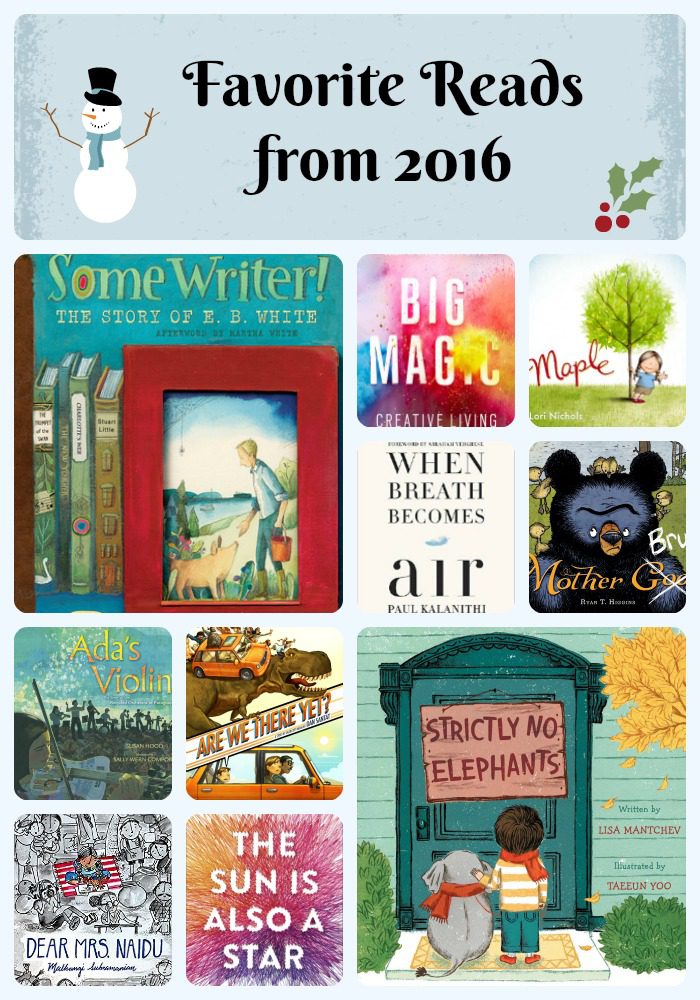 ADULT: When Breath Becomes Air (Paul Kalanithi), Big Magic (Elizabeth Gilbert)
YA: The Sky is Everywhere (Jandy Nelson), The Sun is Also a Star (Nicola Yoon), The Game of Love and Death (Martha Brockenbrough), The Absolute True Diary of a Part-Time Indian (Sherman Alexie)
MG: Some Writer! The Story of E.B. White (Melissa Sweet), Hour of the Bees (Lindsay Eagar), Dear Mrs. Naidu (Mathangi Subramanian)
PB:
Strictly No Elephants (Lisa Mantchev and Taeeun Yoo)
Horrible Bear (Ame Dyckman and Zachariah O'Hora)
Mother Bruce (Ryan T. Higgins)
Nerdy Birdy (Aaron Reynolds and Matt Davies)
Mirette on the High Wire (Emily Arnold McCully)
Tiny Creatures: The World of Microbes (Nicola Davies and Emily Sutton)
Ada's Violin: The Story of the Recycled Orchestra of Paraguay (

Susan Hood and

Sally Wern Comport)

Diary of a Spider (Doreen Cronin and Harry Bliss)
Are We There Yet? (Dan Santat)
Poppy Pickle (Emma Yarlett)
Maple (Lori Nichols)
Pink is for Blobfish (Jess Keating and David DeGrand)
What were some of your favorite reads? I'm always looking for excellent titles for my 2017 to-read list.