It's that time of the year to tally up. Here are my stats according to Goodreads.
TOTAL BOOKS READ IN 2019 = 326
11 Adult; 11 YA; 14 MG; 2 ER; 288 PB
Listed below are my favorite reads from this year. This list contains titles published in 2019 and previous years.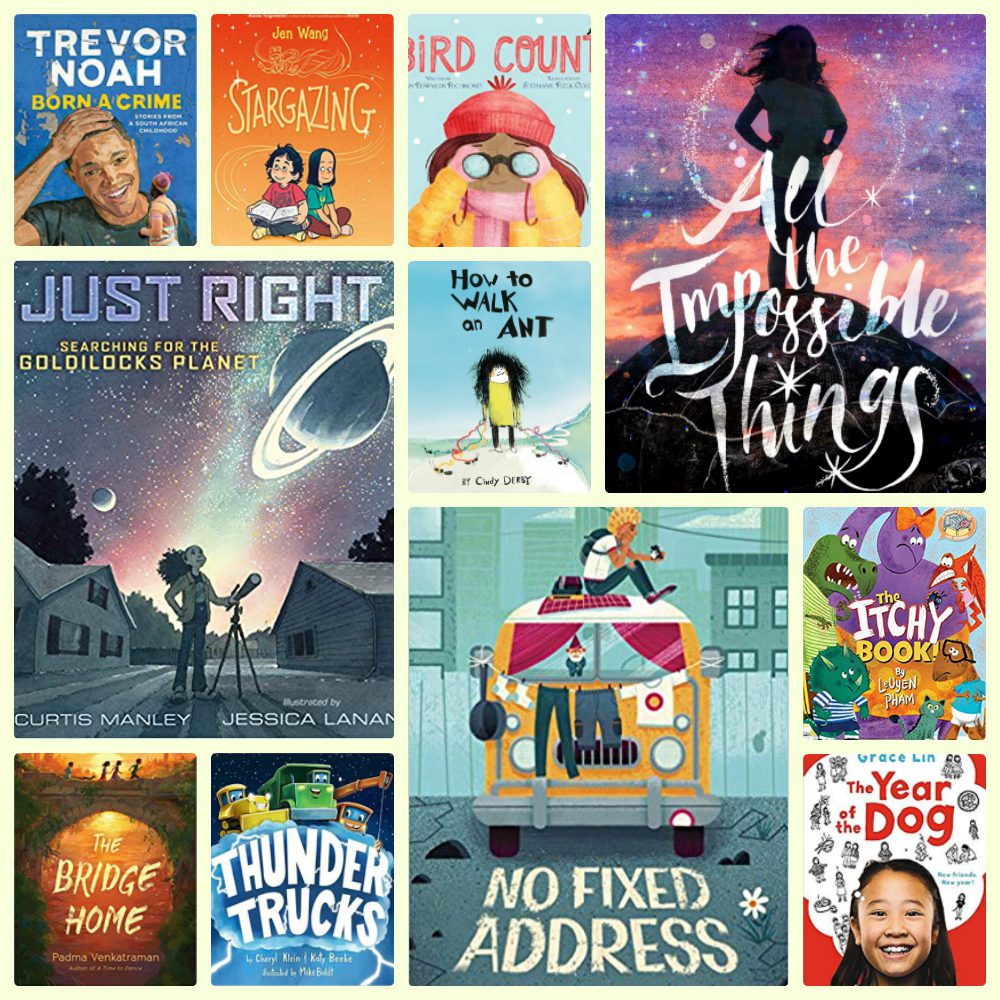 Adult: Educated (Tara Westover),Born a Crime: Stories from a South African Childhood (Trevor Noah),  Big Little Lies (Liane Moriarty), Atomic Habits (James Clear), The Idea of You (Robinne Lee)
Young Adult: Patron Saints of Nothing (Randy Ribay), The Unwanted: Stories of the Syrian Refugees (Don Brown)
Middle Grade: All the Impossible Things (Lindsay Lackey), No Fixed Address (Susin Nielsen), Front Desk (Kelly Yang), The Bridge Home (Padma Venkatraman), The Miscalculations of Lightning Girl (Stacy McAnulty), Stargazing (Jen Wang), The Year of the Dog (Grace Lin)
Early Reader: The Itchy Book! (LeUyen Pham), We Are Growing! (Laurie Keller)
Picture Book:
Bird Count (Susan Edwards Richmond and Stephanie Fizer Coleman)
Dandy (Ame Dyckman and Charles Santoso)
The Moon's First Friends: How the Moon Met the Astronauts from Apollo 11 (Susanna Leonard Hill and Elisa Paganelli)
Little Brown (Marla Frazee)
Saturday (Oge Mora)
Amy Wu and the Perfect Bao (Kat Zhang and Charlene Chua)
Island: A Story of the Galapagos (Jason Chin)
The Don't Worry Book (Todd Parr)
The Undefeated (Kwame Alexander and Kadir Nelson)
Penguin & Tiny Shrimp Don't Do Bedtime! (Cate Berry and Charles Santoso)
The Scarecrow (Beth Ferry and The Fan Brothers)
Thunder Trucks (Cheryl Klein, Katy Beebe, and Mike Boldt)
How to Walk an Ant (Cindy Derby)
What is a Refugee? (Elise Gravel)
Here and Now (Julia Denos and E. B. Goodale)
My Papi Has a Motorcycle (Isabel Quintero and Zeke Peña)
Just Right: Searching for the Goldilocks Planet (Curtis Manley and Jessica Lanan)
The Remeber Balloons (Jessie Oliveros and Dana Wulfekotte)
What were some of your favorites reads this past year?