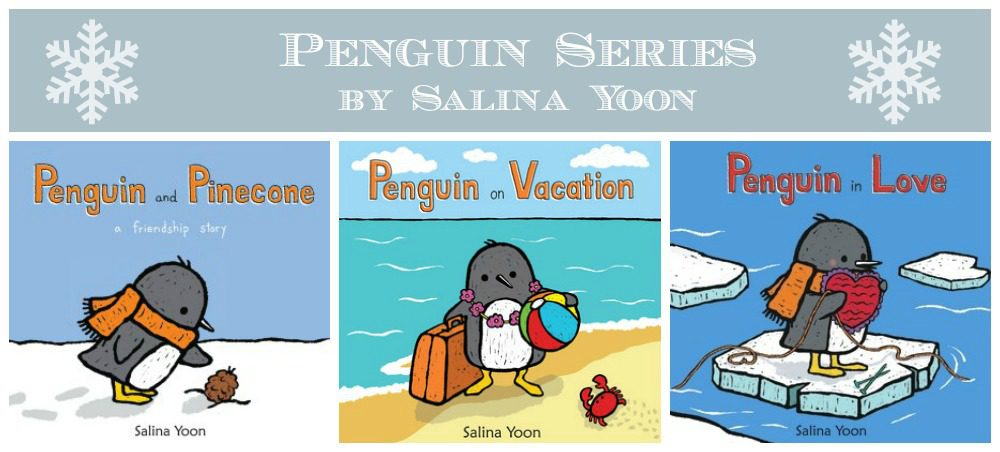 Welcome! It is my pleasure to review a wonderful series about a warm-hearted penguin from the super-talented picture book author/illustrator Salina Yoon. Also check-out my interview with Salina and Penguin!!
The Penguin picture book series involves a cute little penguin that embarks on adventures and experiences new places through the lens of a young child. All of the books have an underlying theme of love and friendship which will be appealing to readers of all ages. The digital illustrations are simple, colorful, child-like and perfect for storytime.

In the first book Penguin and a Pinecone, Penguin finds a pinecone and they become best friends. Penguin knits it a scarf, takes it sledding, and then becomes worried when pinecone sneezes. Penguin then sets off on a journey to take Pinecone home to the forest, where it can go big and strong. Penguin gets Pinecone settled in his new home and while he returns his ice home. After waiting and wondering about his friend, Penguin returns to the forest and finds Pinecone has "grown" from Penguin's love.
Penguin shows the same love and concern for pinecone that young children show for their favorite stuffed animal or doll. He also has the same worries as kids do about being apart from someone who they love. What is truly amazing is the number of emotions (curiosity, concern, worry, happiness) and themes (friendship, love, loyalty) conveyed with such little text, only 212 words.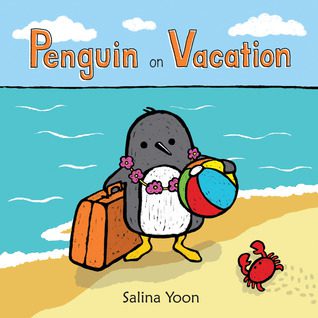 In Penguin on Vacation, Penguin decides he is tired of snow . "Snow again?" (I'm sure those of you on the East Coast can relate to that.) Skiing, sledding, and skating vacations just don't cut it anymore. He sees a cruise ship in the distance and decides to go to the beach! Penguin packs a suitcase and a beach ball and sets off. Despite bigger and bigger waves he persists. Upon reaching the beach Penguin realizes he can't do the same things here as he did on ice. But with the help of a friendly Crab, Penguin learns how to have fun in the sun. But when Penguin leaves to go home he finds a stowaway, his new friend Crab who says "I need a vacation too!" The two enjoy winter activities before Crab has to leave.
Penguin show curiosity and gumption in this tale of visiting a new place. I love how Penguin thought he could do his winter activities at the beach. The tale resonates a theme that I think kids already know and that adults sometimes forget, "you can have fun anywhere as long as you are with friends."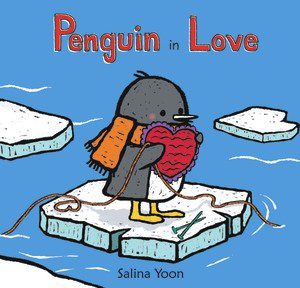 In the newest title, Penguin in Love, Penguin is looking for love but he finds a purple mitten. Penguin tries to find the owner who loves knitting as much as he does, but no luck. He then makes a bill cozy for a puffin. The grateful puffin hatches a plan to bring the two knitting penguins together. Penguin and his friend Bootsy go on a journey to unravel the mystery of their missing yarn only to realize what they have been looking for all along was right under their beaks.
I love that the acts of kindness in this book, where Penguin gives the puffin a cozy for his cold beak and in turn puffin sets off to help Penguin find love.