I am thrilled to bring you today's book review. I first 'met' Julie Falatko over the Internet back in 2012. She had just started doing book reviews on the Brain Burps podcast when I recommended Mathew Cordell's ANOTHER BROTHER to her, hoping she would love it. I am so excited to see her witty, quirky humor getting out into the world.
My fun-filled interview with Julie Falatko and Snappsy.
Title: Snappsy the Alligator (Did Not Ask to Be in This Book)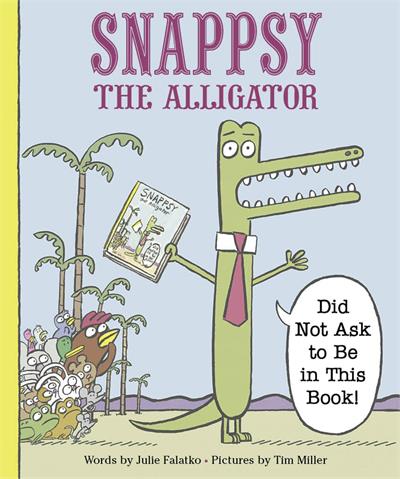 Author: Julie Falatko (awesome interview of Julie, Tim, and Joanna at 7'Imp)
Illustrator: Tim Miller
Publisher: Viking Books, 2016
Editor: Joanna Cardenas
Book Type: Fiction
Ages: 4-8
Themes: Friendship
Opening:
Snappsy the alligator wasn't feeling like himself.
His feet felt draggy.
His skin felt baggy.
His tail wouldn't swish this way and that.
And, worst of all, his big jaw wouldn't SNAP.
"This is terrible! I'm just hungry! Why is this rude narrator trying to make it seem like I need a nap?"
Synopsis (from Amazon's website):
Snappsy the alligator is having a normal day when a pesky narrator steps in to spice up the story. Is Snappsy reading a book … or is he making CRAFTY plans? Is Snappsy on his way to the grocery store … or is he PROWLING the forest for defenseless birds and fuzzy bunnies? Is Snappsy innocently shopping for a party … or is he OBSESSED with snack foods that start with the letter P? What's the truth?
Activities:
Why I Like This Book:
A fusion of meta-fiction and unreliable narrator with a dose of heart. A book that can be simply enjoyed for the witty humor or dissected in classroms for its clever storytelling.
Right away from the book cover you know something is awry with the first part of the title in bold maroon letters, and the second part in a Snappsy dialogue bubble. This is the basic jist of the story, overbearing narrator vs humble Snappsy. I love the interplay between what the narrator says about Snappsy versus what Snappsy is actually doing – Snappsy hunting for animals to eat (false) vs Snappsy on his way to the grocery store (truth). I think Kirkus Review said it best by likening the narrator to Rita Skeeter. No wonder Snappsy is snappy. But he does humor the narrator by throwing a party to spice up the book. The reveal of the narrator was an unexpected pleasant surprise.
I love the narrator's authoritative voice. (Come back tomorrow to find out the author's influences on this.) I also really enjoyed Snappy's dialogue when retorting back. Who actually says "You are really cheesing me off." So original. It is sophisticated storytelling to pull-off essentially two characterizations of a single character, and in a picture book format.
Ms. Falatko provided the skeleton and framework which Mr. Miller filled out with his unique artistic vision. A perfect marriage of text and art.
The retro-cartoony art are simple drawings but full of charm and depth. I loved all the little tidbits that the illustrator added to Snappsy's character such as the tie and fez. I also enjoyed the interpretive license. Text says "forest" but the art shows a bamboo forest. Snappsy visits a grocery store but it's actually and ABC Grocery store where the aisles are letters not numbers. The art enrichs the story taking it to another level.
This is a fun read and one I can see kids going back too for more. For a special Snappsy treat take of the dust jacket.
Check-out this awesome book trailer. Enjoy!
Find Snappsy the Alligator at the following spots:
Amazon | Barnes & Noble | Indiebound | Goodreads
ISBN-10: 0451469453
ISBN-13: 978-0451469458Disclosure: I received my copy of this book from the publisher. This review nevertheless reflects my own and honest opinion about the book.