Hope everyone is keeping warm this winter. Here in California, we're just trying to stay dry in one of the wettest winters ever. Not that I'm complaining. It's better than the string of drought years. I am still working away on my picture books and have started working on a YA historical novel. Speaking of picture books, I would love to see more South Asian titles in that category. 😉
Last summer, I posted some fantastic South Asian children's and young adult books that released in 2016. Thanks to the We Need Diverse Books movement, #ownvoices, #diversity, and a general interest in the publishing and reading communities there has been an uptick in books that contain diversity as well as by diverse authors. Today I bring you nine titles (1 PB, 4 MG, 4 YA) that are being released in the first-half of 2017. These books are traditionally published and are either by a South Asian author, contains a South Asian Main Character, or involves South Asian culture. The books are organized by Category and then Publication Date. Come back in July for Part 2 containing books being released in the 2nd half of 2017.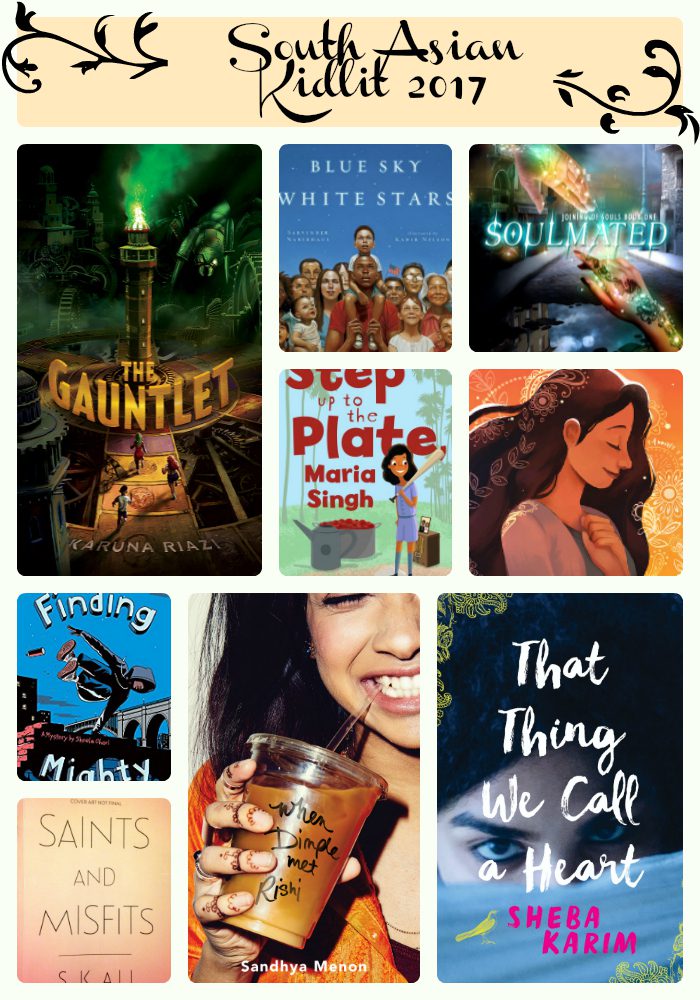 ---

Title: Blue Sky White Stars

Author: Sarvinder Naberhaus
Illustrator: Kadir Nelson
Publisher: Penguin
Publication Date: June 13, 2017
Category-Genre: Picture Book
Synopsis: Wonderfully spare, deceptively simple verses pair with richly evocative paintings to celebrate the iconic imagery of our nation, beginning with the American flag. Each spread is sumptuously illustrated by award-winning artist Kadir Nelson
Bio: Sarvinder Naberhaus immigrated from Punjab to the U.S. when she was four years old. Her first book, Boom Boom, was illustrated by Caldecott-honor winning artist Margaret Chodos-Irvine. She also has an upcoming board book, Lines.
Website: www.sarvinder.com
Twitter: @SarvinderN
Facebook: Sarvinder Author
---

Title: Amina's Voice

Author: Hena Khan
Publisher: Salaam Reads
Publication Date: March 14, 2017
Category-Genre: Middle Grade
Synopsis: The first year of middle school is tricky for stage-shy Amina, when her best friend Soojin starts talking about changing her name and, even worse, spending time with Emily—a girl that used to make fun of them! Amina's older brother seems to be getting into a lot of trouble and when her uncle comes to visit from Pakistan, her parents try awfully hard to impress him. But when Amina's mosque is vandalized, she find her voice, and learns that the things that connect us will always be stronger than the things that try to tear us apart.
Bio: Hena Khan is the author of several award-winning books including Golden Domes and Silver Lanterns, It's Ramadan, Curious George, and Night of the Moon. She's also written choose your own adventure style novels and books on space, spies, and more. Hena was born and raised in Maryland, where she still lives with her family.
Website: www.henakhan.com
Twitter: www.twitter.com/henakhanbooks
Facebook: www.facebook.com/hena.khan.books
Instagram: www.instagram.com/henakhanbooks/
---
Title: The Gauntlet


Author: Karuna Riazi
Publisher: S&S/Salaam Reads
Publication Date: March 28, 2017
Category-Genre: Middle Grade – Fantasy
Synopsis: A trio of friends from New York City find themselves trapped inside a mechanical board game that they must dismantle in order to save themselves and generations of other children in this action-packed debut that's a steampunk Jumanji with a Middle Eastern flair.
Bio: Karuna Riazi is a born and raised New Yorker, with a loving, large extended family and the rather trying experience of being the eldest sibling in her particular clan. Besides pursuing a BA in English literature, she is an online diversity advocate, blogger, and publishing intern. Karuna is fond of tea, Korean dramas, writing about tough girls forging their own paths toward their destinies, and baking new delectable treats for friends and family to relish.
Twitter: twitter.com/karunariazi
---

Title: Step Up to the Plate, Maria Singh

Author: Uma Krishnaswami
Publisher: Tu Books/Lee & Low
Publication Date: May 1, 2017
Category-Genre: Middle Grade – Historical Fiction
Synopsis: In Yuba City, California, in the spring of 1945, Maria Singh longs to play softball. But even as Maria's world opens up, her parents—Papi from India and Mamá from Mexico—can no longer protect their children from prejudice and from the discriminatory laws of the land. When the family is on the brink of losing their farm, nine-year-old Maria must decide if she has what it takes to step up and find her voice in an unfair world.
Bio: Uma Krishnaswami is the author of more than twenty books for young readers. She teaches in the low-residency MFA program in Writing for Children and Young Adults, Vermont College of Fine Arts. Born in New Delhi, India, Uma now lives and writes in Victoria, British Columbia, Canada.
Website: http://umakrishnaswami.org
Blog: https://umakrishnaswami.org/blog-writing-with-a-broken-tusk/
---

Title: Finding Mighty

Author: Sheela Chari
Illustrator: R. Kikuo Johnson
Publisher: Abrams
Publication Date: May 30, 2017
Category-Genre: Middle Grade – Mystery
Synopsis: Along the train lines north of New York City, twelve-year-old neighbors Myla and Peter search for the link between Myla's necklace and the disappearance of Peter's brother, Randall.
Bio: Sheela Chari is the author of FINDING MIGHTY (May 2017) and VANISHED, an Edgar Award nominee for best juvenile mystery, an Al Roker book pick on the Today Show, and an APALA Children's Literature Honor Book. She has an MFA in Fiction from New York University and teaches writing at Mercy College. She lives in New York with her family.
Website: www.sheelachari.com
Facebook: https://www.facebook.com/sheela.chari
Twitter: @wordsbysheela
---

Title: Soulmated

Author: Shaila Patel
Publisher: Month 9 Books
Publication Date: January 24, 2017
Category-Genre: Yound Adult – Paranormal Romance
Synopsis: Irish empath Liam Whelan is forced to find his fated soul mate and is drawn to Indian-American Laxshmi Kapadia–only she's not an empath and would derail his father's plans for when they did find "The One." Laxshmi struggles with her own parental expectations in the form of ultimatums that leave her neither the option of pursuing dance as a career, nor an interest in her handsome new Irish neighbor. Will Liam and Laxshmi defy expectations and embrace a shared destiny, or is the risk of choosing one's own fate too great a price?
Bio: Shaila Patel is a pharmacist by training, a medical office manager by day, and a writer by night. Her award-winning novel Soulmated debuts on 1/24/17. She enjoys traveling, craft beer, tea, and loves reading books—especially in cozy window seats. You might find her sneaking in a few paragraphs at a red light or connecting with other readers online.
Website: www.shailapatelauthor.com
Facebook: www.facebook.com/ShailaPatelWriter
Twitter: twitter.com/shaila_writes
Instagram: www.instagram.com/shailapatel94
Goodreads: www.goodreads.com/shailapatel94
---

Title: That Thing We Call a Heart

Author: Sheba Karim
Publisher: HarperTeen
Publication Date: May 9, 2017
Category-Genre: Young Adult – Contemporary
Synopsis: As Pakistani-American teen Shabnam falls for Jamie and begins to mend her friendship with her estranged best friend Farah, she learns powerful lessons about love and the true story of happened to her family during the 1947 Partition of India.
Bio: Sheba Karim's first YA novel was Skunk Girl. Her third, The Road Trip Effect, will be out in 2018. She has an MFA from the Iowa Writers' Workshop and lives in Nashville, TN.
Facebook: https://www.facebook.com/shebakarimwriter/
Twitter: https://twitter.com/shebakarim
---

Title: When Dimple Met Rishi

Author: Sandhya Menon
Publisher: Simon Pulse/Simon & Schuster
Publication Date: May 30, 2017
Category-Genre: Yong Adult –  Romantic Comedy
Synopsis: A laugh-out-loud, heartfelt YA romantic comedy, told in alternating perspectives, about two Indian-American teens whose parents have arranged for them to be married.
Bio: Sandhya Menon is the author of the upcoming YA novels WHEN DIMPLE MET RISHI (Simon Pulse/May 30, 2017) and THE STORIES WE TOLD (Simon Pulse/Summer 2018). She was born and raised in India on a steady diet of Bollywood movies and street food, and pretty much blames this upbringing for her obsession with happily-ever-afters, bad dance moves, and pani puri. Sandhya currently lives in Colorado, where she's on a mission to (gently) coerce her husband, son, and daughter to watch all 3,220 Bollywood movies she claims as her favorite.
Twitter: http://bit.ly/sandhyatwitter
Instagram: http://bit.ly/sandhyainsta
Facebook: http://bit.ly/sandhyamenonbooksfb
---
Title: Saints and Misfits

Author: S. K. Ali
Publisher: Salaam Reads/Simon & Schuster
Publication Date: June 13, 2017
Category-Genre: Young Adult – Contemporary
Synopsis: Saints and Misfits follows Janna Yusuf, a geeky, hijabi Arab-Indian-American girl, as she navigates high school and the possibility of first love—even though Muslim girls aren't supposed to date, right? She's trying to figure herself out, along with her place in the world, especially if that means revealing a shattering secret that just might send ripples through her tight-knit Muslim community.
Bio: S. K. Ali was born in south India. She lived there until the age of three, at which point she found herself in Montreal, Canada. After a brief stint learning how to read, write and paint, all in French, she made her way to Toronto, where she ended up getting a degree in Creative Writing.
Twitter: @sajidahwrites
Website: skalibooks.com
Goodreads: https://www.goodreads.com/author/show/15615126.S_K_Ali