Sorry, this is a little late. Things have been busy, busy, busy. In my last round-up post, I mentioned it was a bumper crop year for South Asian books – picture books in particular. It turns out I missed a handful of books and decided to include them in Part 2. I had so many books that I had to break it down into two posts! Yowza! I never would have imagined I'd have so many books to share. This post is the first one which covers just picture books.
The books listed below are traditionally published and are either by a South Asian author, contains a South Asian Main Character, or involves South Asian culture. The books are organized by Category and then Publication Date.
For an abbreviated pdf version of this list click here. Feel free to share with librarians, booksellers, teachers, and book lovers everywhere.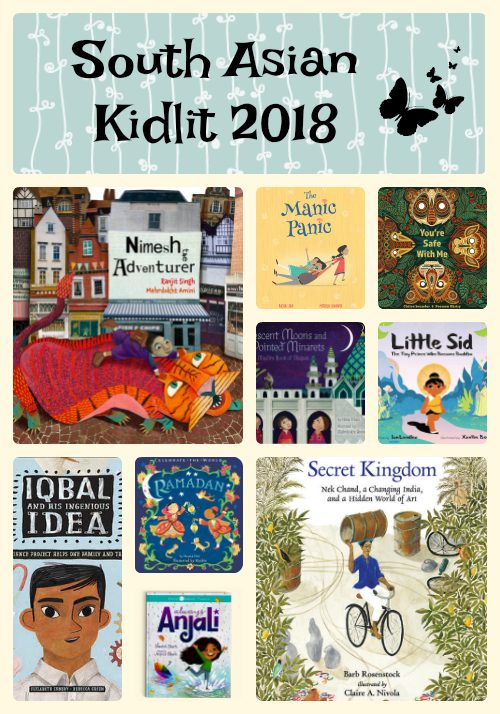 Title: Little Sid: The Tiny Prince Who Became Buddha

Author: Ian Lendler
Illustrator: Xanthe Bouma
Publisher: First Second
Publication Date: January 23, 2018
Category-Genre: Picture Book-Buddhist Fiction
Synopsis: Little Sid weaves traditional Buddhist fables into a new tale of Siddhartha as a spoiled young prince, who gets everything he asks for, until he wants something that can't be given– happiness. So he sets off on a journey of discovery and encounters mysterious wise-folk, terrifying tigers, and one very annoying mouse.
Bio: Ian Lendler is the author of the award-winning Stratford Zoo graphic novel series, as well as the picture books An Undone Fairy Tale, Saturday, and One Day A Dot. He lives near San Francisco, CA.
Website: IanLendler.com
Twitter: @ianlendler
---
Title: The Secret Kingdom: Nek Chand, a Changing India, and a Hidden World of Art 

Author: Barb Rosenstock
Illustrator: Claire A. Nivola
Publisher: Candlewick Press
Publication Date: February 2018
Category-Genre: Picture Book – Non-Fiction
Synopsis: The incredible story of the world's largest visionary environment: the Rock Garden of Chandigarh, kept secret by outsider artist Nek Chand for fifteen years.
Bio: Barb Rosenstock is a children's book author who loves true stories. Her work includes The Camping Trip That Changed America: Theodore Roosevelt, John Muir, and Our National Parks, illustrated by Mordicai Gerstein; The Noisy Paint Box: The Colors and Sounds of Kandinsky's Abstract Art, illustrated by Mary GrandPré; and many others. Barb Rosenstock lives in Chicago.
---
Title: Ramadan
Author: Hannah Eliot
Illustrator: Rashin
Publisher: Little Simon
Publication Date: April 3, 2018
Category-Genre: Board Book
Synopsis: In the ninth month of the year, when the first crescent moon rises in the sky, it's time to celebrate Ramadan! In this lovely board book with illustrations from Rashin Kheiriyeh, readers learn that Ramadan is a time to reflect on ourselves, to be thankful, and a time to help others.
Bio:
Hannah Eliot is a children's book editor who lives in Manhattan, New York. Her favorite activities include editing (of course), writing, painting, and doodling all over every piece of notebook paper she uses.
Rashin Kheiriyeh is an internationally recognized, award-winning author, illustrator, animation director, and painter who has published over sixty children's books. She has a PhD in children's book illustration from Tehran, Iran, and her MFA in graphic design from Alzahra University. She also studied at the School of Visual Arts in New York. Currently, she is an art professor at the University of Maryland.
---
Title: You're Safe With Me

Author: Chitra Soundar
Illustrator: Poonam Mistry
Publisher: Lantana Publishing (distributed by Lerner Books)
Publication Date: April 1, 2018
Category-Genre: Picture Book
Synopsis:
When the moon rises high and the stars twinkle, it is bedtime for the baby animals of the Indian forest. But tonight, when the skies turn dark and the night grows stormy, the little ones can't sleep. SWISH-SWISH! CRACK-TRACK! FLASH-SNAP! goes the storm. Only Mama Elephant with her words of wisdom can reassure them. "You're safe with me."
Bio:
Chitra Soundar is an Indian-born British writer and storyteller. She is inspired by the rich epics and folktales of India, its diverse culture and its natural beauty. She has over 30 books in print worldwide and has been published by Otter-Barry Books, Walker Books and Red Robin Books.
Poonam Mistry is a UK-based illustrator of Indian heritage. Her work is heavily influenced by nature, folklore and traditional Indian art. With a degree in Graphic Design and Illustration, she produces artwork for clients around the world.
Facebook: https://www.facebook.com/ChitraSoundarAuthor/
Twitter: @csoundar
Instagram: @chitrasoundar
Twitter: @pmistryartist
Instagram: @poonammistryart
---
Title: Nimesh the Adventurer

Author: Ranjit Singh
Illustrator: Mehrdokht Amini
Publisher: Lantana Publishing (distributed by Lerner Books)
Publication Date: April 1, 2018
Category-Genre: Picture Book
Synopsis: Nimesh is walking home from school. Except…there happens to be a shark in the corridor. And a dragon in the library! And why would crossing the road lead to the North Pole? A fun-filled story about a little boy with a BIG imagination, Nimesh the Adventurer will surely make even the dullest journey a dazzling adventure.
Bio:
Ranjit Singh is a British children's book author of East Asian heritage. He uses words to reach out and inspire people in his community. This is his debut picture book.
Mehrdokht Amini is an Iranian-born illustrator who has won the Children's Africana Best Book Award and been nominated for a Kate Greenaway Medal for her work on Chicken in the Kitchen (Lantana).
Facebook: https://www.facebook.com/ranjittheauthor
Twitter: @RanjitTheAuthor
Facebook: https://www.facebook.com/mehrdokht.amini.1
---
Title: Crescent Moons and Pointed Minarets: A Muslim Book of Shapes

Author: Hena Khan

Illustrator: Mehrdokht Amini
Publisher: Chronicle Books
Publication Date: April 10, 2018
Category-Genre: Picture Book
Synopsis:
From a crescent moon to a square garden to an octagonal fountain, this breathtaking picture book celebrates the shapes—and traditions—of the Muslim world. Sure to inspire questions and observations about world religions and cultures, this beautiful sequel to Golden Domes and Silver Lanterns is equally at home in a classroom reading circle as on a parent's lap being read to a child.
Bio:
Hena Khan is the author of Amina's Voice, a Washington Post, Kirkus Reviews and NPR Best Book of 2017, the Zayd Saleem: Chasing the Dream chapter book series, and several beloved picture books including Golden Domes and Silver Lanterns, It's Ramadan, Curious George, and Night of the Moon.
Mehrdokht Amini is an Iranian-born illustrator who has won the Children's Africana Best Book Award.
Twitter: https://twitter.com/henakhanbooks
Facebook: https://www.facebook.com/hena.khan.author
Instagram: https://www.instagram.com/henakhanbooks/
Website: https://www.henakhan.com/
Facebook: https://www.facebook.com/mehrdokht.amini.1
Website: https://www.myart2c.com/
---
Title: Iqbal and his Ingenious Idea: How a Science Project Helps O
ne Family and the Planet
Author: Elizabeth Suneby
Illustrator: Rebecca Green
Publisher: Kids Can Press
Publication Date: May 1, 2108
Category-Genre: Fiction
Synopsis: Motivation, science problem-solving skills and the help of a little sister—that's what it takes for Iqbal to come up with an idea for his school's science fair. If he wins, he can buy his mom a gas-fueled stove so during monsoon season she doesn't have to cook over an open fire inside which is making her and the baby sick.
Bio: Elizabeth loves to play with words. Its how she thinks through ideas, learn new things — and earn a living. She write books, magazine articles, and websites.
Website: elizabethsuneby.com/books
Facebook: https://www.facebook.com/ElizabethKellnerSunebyWriter/
Twitter: https://twitter.com/pressed4words 
---
Title: The Manic Panic

Author: Richa Jha
Illustrator: Mithila Ananth
Publisher: Creston Books
Publication Date: May 1, 2018
Category-Genre: Picture book
Synopsis: How can a family survive when the internet goes down? Clearly the parents have no solution. Luckily, their daughter knows exactly what to do!
Bio(s):  Richa Jha is an Indian author, publisher and picture book enthusiast. Her picture books have been nominated for several prestigious literary, industry and popular awards in India. She is an active member of the kidlit community.
When not illustrating books and dreaming up characters, Mithila Ananth can be found smelling books, collecting stationery, and relaxing with 90s cartoons. She likes happy endings. The Manic Panic is her first children's book.
Richa Jha
Website: richajha.com
Facebook:@richajhabooks
Twitter: @RichajhaJha
Instagram: @richajharj
Mithila Ananth
Website: doodlekaari.com
Facebook: @Doodlekaari
Twitter: @doodlekaari
Behance: Doodlekaari
---
Author: Sheetal Sheth
Illustrator: Jessica Blank
Publisher: Bharat Babies
Publication Date: May, 2018
Category-Genre: Picture Book
Synopsis: When Anjali and her friends want to get matching personalized license plates, she can't find her name. To make matters worse, she gets bullied for her 'different' name, and is so upset she demands to change it. When her parents refuse and she is forced to take matters into her own hands, she winds up learning to celebrate who she is and carry her name with pride and power. A timeless story about appreciating what makes us special.
Bio: Sheetal Sheth is an award-winning actress and producer, known for her provocative performances in a wide range of memorable roles on film and television. Sheetal puts a spotlight on under-represented groups, not only through her trailblazing work as an actor, but also by being an outspoken advocate. Sheetal served in President Clinton's AmeriCorps, is currently on the advisory board of Equality Now, and is an ambassador for The Representation Project. This is her first children's book.