Thanks so much for stopping by for another South Asian Kidlit round-up! So many books! Today's post covers Picture Books thru Young Adult that have a release date between the end of April through early August. If you would like to check-out past round-ups click on this link which will take you to my past South Asian Kidlit posts.
The books listed below are traditionally published and are either by a South Asian author, contains a South Asian Main Character, or involves South Asian culture. The books are organized by Category and then Publication Date.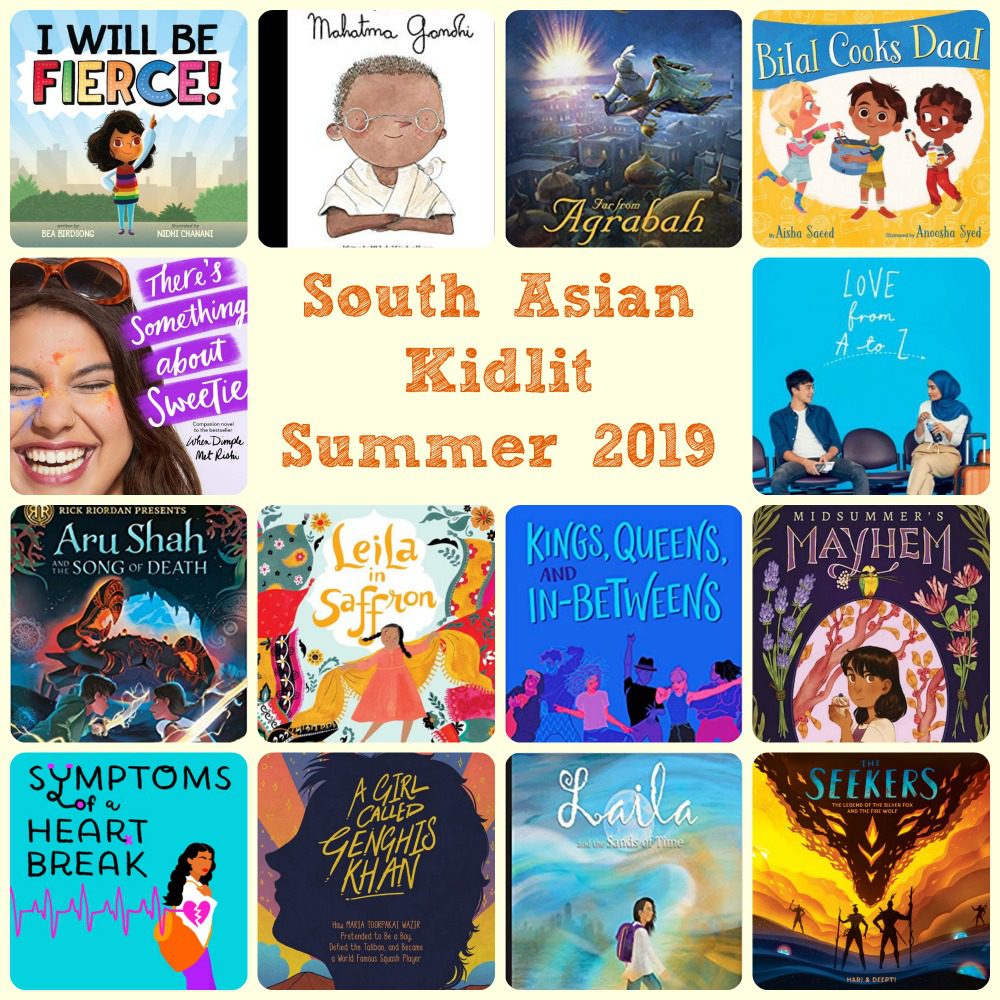 ---
Title: I Will Be Fierce
Author: Bea Song
Illustrator: Nidhi Chanani
Publisher: Roaring Brook Press
Publication Date: April 23, 2019
ISBN: 978-1250295088
Category-Genre: Picture Book
Synopsis: 
I Will Be Fierce is a powerful picture book about courage, confidence, kindness, and finding the extraordinary in everyday moments.
Today, I will be fierce!
It's a brand new day, and a young girl decides to take on the world like a brave explorer heading off on an epic fairytale quest. From home to school and back again, our hero conquers the Mountain of Knowledge (the library), forges new bridges (friendships), and leads the victorious charge home on her steed (the school bus).
---
Title: Gandhi (Little People, Big Dreams)
Author: Isabel Sanchez Vegara
Illustrator: Albert Arrayas
Publisher: Frances Lincoln Children's Books
Publication Date: April 30, 2019
ISBN: 978-1786037879
Category-Genre: Picture Book – Non-Fiction Biography
Synopsis:
New in the Little People, Big Dreams series, discover the life of Mohandas Gandhi, the father of India, in this true story of his life. As a young teenager in India, Gandhi led a rebellious life and went against his parents' values. But as a young man, he started to form beliefs of his own that harked back to the Hindu principles of his childhood. Gandhi began to dream of unity for all peoples and religions. Inspired by this idea, he led peaceful protests to free India from British rule and unite the country—ending violence and unfair treatment. His bravery and free-thinking made him one of the most iconic people of peace in the world, known as 'Mahatma' meaning 'great soul'.
---
Title: Bilal Cooks Dal
Author: Aisha Saeed
Illustrator: Anoosha Syed
Publisher: Salaam Reads
Publication Date: June 4, 2019
ISBN: 978-1534418103
Category-Genre: Picture Book
Synopsis:
Six-year-old Bilal is excited to help his dad make his favorite food of all-time: daal! The slow-cooked lentil dish from South Asia requires lots of ingredients and a whole lot of waiting. Bilal wants to introduce his friends to daal. They've never tried it! As the day goes on, the daal continues to simmer, and more kids join Bilal and his family, waiting to try the tasty dish. And as time passes, Bilal begins to wonder: Will his friends like it as much as he does?
---
Title: Leila in Saffron
Author: Rukhsanna Guidroz
Illustrator:  Dinara Mirtalipova
Publisher: Salaam Reads
Publication Date: June 18, 2019
ISBN: 978-1534425644
Category-Genre: Picture Book
Synopsis:
A colorful journey of self-discovery and identity, this sweet, vibrant picture book follows young Leila as she visits her grandmother's house for their weekly family dinner, and finds parts of herself and her heritage in the family, friends, and art around her.
Sometimes I'm not sure if I like being me.
When Leila looks in the mirror, she doesn't know if she likes what she sees. But when her grandmother tells her the saffron beads on her scarf suit her, she feels a tiny bit better. So, Leila spends the rest of their family dinner night on the lookout for other parts of her she does like.
Follow Leila's journey as she uses her senses of sight, smell, taste, touch to seek out the characteristics that make up her unique identity, and finds reasons to feel proud of herself, just as she is.
---
Title: A Girl Called Genghis Khan: How Maria Toorpakai Wazir Pretended to Be a Boy, Defied the Taliban, and Became a World Famous Squash Player
Author: Michelle Lord
Illustrator: Shehzil Malik
Publisher: Sterling Children's Books
Publication Date: July 23, 2019
ISBN: 978-1454931362
Category-Genre: Picture Book
Synopsis:
This compelling, timely, and empowering picture book introduces children to Maria Toorpakai Wazir, a Pakistani girl who braved threats from the Taliban in order to play the sport she loved.
Meet Maria Toorpakai Wazir, a Pakistani girl who loved sports and longed for the freedom that boys in her culture enjoyed. She joined a squash club to pursue her dream, and was taunted, teased, and beaten—but still continued playing. Then, when Maria received an award from the President of Pakistan for outstanding achievement, the Taliban threatened her squash club, her family, and her life. Although forced to quit the team, she refused to give up. Maria kept practicing the game in her bedroom every day for three years! Her hard work and perseverance in the face of overwhelming obstacles will inspire all children.
---
Title: The Seekers
Author/Illustrator: Hari & Deepti
Publisher: Knopf Books
Publication Date: August 6, 2019
ISBN: 978-1524701529
Category-Genre: Picture Book
Synopsis:
Mio and Nao live in the valley of Krum, above a great river that provides everything they need to survive. As children, their grandfather told tales of the Silver Fox and Fire Wolf, tales everyone else believed were only legends–everyone, that is, but Mio.
When the life-giving river that flows through their village is mysteriously threatened, Mio and Nao set out beyond their valley to find out what has gone wrong. The farther they get from home, they find lifeless trees and skies filled with smoke. The other villagers grow weary of their mission until they are confronted with their childhood legends come to vivid life and have to risk everything to save their home.
Depicted through intricate cut-paper art, this memorable tale will remind readers of the importance of home while still striving to discover the world around you.
---
Title: Aladdin: Far from Agrabah
Author: Aisha Saeed
Publisher: Disney Press
Publication Date: April 2, 2019
ISBN: 978-1368031707
Category-Genre: Middle-Grade – Fairytale
Synopsis:
This stunning original novel will tell an all-new story set in the world of the new film, featuring Aladdin and Jasmine. A magic carpet ride full of adventure, suspense, and wonder written by New York Times Bestselling author Aisha Saeed, this story will be a must-read for any Aladdin fans who find themselves drawn into and enchanted by the magical world of Agrabah and beyond.
---
Title: Aru Shah and the Song of Death
Author: Roshani Choksi
Publisher: Rick Riordan Presents
Publication Date: April 30, 2019
ISBN: 978-1368013840
Category-Genre: Middle-Grade – Fantasy
Synopsis:
Best-selling author Rick Riordan presents best-selling author Roshani Chokshi and her sequel to Aru Shah and the End of Time. Aru is only just getting the hang of this whole Pandava thing when the Otherworld goes into full panic mode. The god of love's bow and arrow have gone missing, and the thief isn't playing Cupid. Instead, they're turning people into heartless fighting-machine zombies. If that weren't bad enough, somehow Aru gets framed as the thief. If she doesn't find the arrow by the next full moon, she'll be kicked out of the Otherworld. For good. But, for better or worse, she won't be going it alone. Along with her soul-sister, Mini, Aru will team up with Brynne, an ultra-strong girl who knows more than she lets on, and Aiden, the boy who lives across the street and is also hiding plenty of secrets. Together they'll battle demons, travel through a glittering and dangerous serpent realm, and discover that their enemy isn't at all who they expected.
---
Title: Laila and the Sands of Time
Author: Shirin Shamsi
Publisher: Clear Fork Publishing
Publication Date: May 17, 2019
ISBN: 978-1946101778
Category-Genre: Middle-Grade – Fantasy
Synopsis:
Thirteen-year-old Laila, still grieving over her father's death, goes on their planned pilgrimage with her aunt and uncle. When she is transported back in time to 7th century Arabia, she faces the dangers of the desert, takes on a disguise, and saves a baby's life. But will she ever return to her own time?
---
Title: Midsummer's Mayhem
Author: Rajani LaRocca
Publisher:  Little Bee Books/Yellow Jacket
Publication Date: June 11, 2019
ISBN: 978-1499808889
Category-Genre: Middle-Grade – Fantasy
Synopsis:
MIDSUMMER'S MAYHEM is an Indian-American middle grade mashup of A Midsummer Night's Dream and competitive baking shows in which 11-year-old Mimi dreams of winning a celebrity chef judged baking contest, meets a mysterious boy in the woods, and stirs up all kinds of trouble with her baking.
---
Title: Love from A to Z
Author: S.K. Ali
Publisher: Salaam Reads
Publication Date: April 30, 2019
ISBN: 978-1534442726
Category-Genre: Young Adult – Contemporary
Synopsis:
Suspended from school for standing up to an Islamophobic teacher, Zayneb is headed to Doha to stay with family, resigned to be "nicer" and let the injustices of the world slide off her shoulders from hereon.
Adam is headed to Doha too, struggling with a recent diagnosis, and resigned to keep his illness from friends and family.
Alone, both are playing roles for others. Together, will they learn to live their truths?
---
Title: Kings, Queens, and In-Betweens
Author:  Tanya Boteju
Publisher: Simon Pulse
Publication Date: May 7, 2019
ISBN: 978-1534430655
Category-Genre: Young Adult – Contemporary LGBTQ+
Synopsis: 
Perpetually awkward Nima Kumara-Clark is bored with her insular community of Bridgeton, in love with her straight girlfriend, and trying to move past her mother's unexpected departure. After a bewildering encounter at a local festival, Nima finds herself suddenly immersed in the drag scene on the other side of town.
Macho drag kings, magical queens, new love interests, and surprising allies propel Nima both painfully and hilariously closer to a self she never knew she could be—one that can confidently express and accept love. But she'll have to learn to accept lost love to get there.
---
Title: There's Something About Sweetie
Author: Sandhya Menon
Publisher: Simon Pulse
Publication Date: May 14, 2019
ISBN: 978-1534416789
Category-Genre: Young Adult – Contemporary
Synopsis:
The irresistible companion novel to the New York Times bestseller When Dimple Met Rishi, which follows Rishi's brother, Ashish, and a confident, self-proclaimed fat athlete named Sweetie as they both discover what love means to them.
---
Title: Symptoms of a Heartbreak
Author: Sona Charaipotra
Publisher: Imprint
Publication Date: July 2, 2019
ISBN: 978-1250199102
Category-Genre: Young Adult – Contemporary
Synopsis:
Most 16-year-olds cause at least some damage on their path to adulthood. But Saira Sehgal has vowed to first do no harm. A girl genius, she's the youngest MD in America—and she hasn't picked an easy specialty: She's working on the cancer ward. Saira's always been good at getting what she wants, but she's new to adult challenges—like getting out from under the thumb of her doting mother, who works at the same hospital; like proving herself to coworkers who don't take her seriously; and crushing on a cute boy who happens to have stage-two leukemia. Turns out "heartbreak" is one ailment Saira still doesn't know how to treat.