Thanks so much for stopping by for another South Asian Kidlit round-up! So many books! It fills my heart to see these diverse stories making their way out into the world. Today's post covers Picture Books thru Young Adult that have a release date between Dec 31, 2018 to end of April 2019.
If you would like to check-out past round-ups click on this link which will take you to my past South Asian Kidlit posts. I'm so excited my debut picture book will be a part of these round-ups next year! 🙂
The books listed below are traditionally published and are either by a South Asian author, contains a South Asian Main Character, or involves South Asian culture. The books are organized by Category and then Publication Date.
---
Title: Under My Hijab
Author: Hena Khan
Illustrator: Aaliya Jaleel
Publisher: Lee & Low Books
Publication Date: February 5, 2019
ISBN: 978-1620147924
Category-Genre: Picture Book
Synopsis:
Grandma wears it clasped under her chin. Aunty pins hers up with a beautiful brooch. Jenna puts it under a sun hat when she hikes. Zara styles hers to match her outfit. As a young girl observes six very different women in her life who each wear the hijab in a unique way, she also dreams of the rich possibilities of her own future, and how she will express her own personality through her hijab. Written in sprightly rhyme and illustrated by a talented newcomer, Under My Hijab honors the diverse lives of contemporary Muslim women and girls, their love for each other, and their pride in their culture and faith.
---
Title: The Home Builders
Author: Varsha Bajaj
Illustrator: Simona Mulazzani
Publisher: Nancy Paulsen Books
Publication Date: February 12, 2019
ISBN: 978-0399166853
Category-Genre: Picture Book
Synopsis:
This vibrantly illustrated picture book celebrates a variety of woodland creatures as they make their homes and prepare for their young.
Welcome to a serene woodland where lots of expectant animal parents are in their "nesting" phase–that is, busy preparing safe, cozy homes for their growing families. As they dig, tunnel, gnaw, and gather, they create dens, burrows, lodges, and, of course, nests. Soon the woods are full of new little ones peeping, crawling, romping, and snuggling–and with artwork so gorgeous that it feels like an invitation into the scenery it's depicting, readers will be eager to join them in their beautiful home.
---
Title: When I Found Grandma
Author: Saumiya Balasubramaniam
Illustrator: Qin Leng
Publisher: Groundwood Books
Publication Date: March 5, 2019
ISBN: 978-1773060187
Category-Genre: Picture Book
Synopsis:
When Maya's grandma makes a surprise visit from thousands of miles away, Maya is delighted. But her excitement doesn't last long. When Grandma picks her up from school, she wears fancy clothes and talks too loudly. Grandma's morning prayer bells wake Maya up, and she cooks with ingredients Maya doesn't usually eat. Plus, Maya thinks cupcakes taste better than Grandma's homemade sweets.
Maya and Grandma try to compromise, and on a special trip to the island Grandma even wears an "all-American" baseball cap. But when Maya rushes off to find the carousel, she loses sight of her mother, father and grandmother. She is alone in a sea of people … until she spots something bobbing above the crowd, and right away she knows how to find her way.
---
Title: The Yellow Suitcase
Author: Meera Sriram
Illustrator: Meera Sethi
Publisher: Penny Candy Books
Publication Date: March 12, 2019
ISBN: 978-0999658413
Category-Genre: Picture Book
Synopsis:
In The Yellow Suitcase by Meera Sriram, Asha travels with her parents from America to India to mourn her grandmother's passing. Asha's grief and anger are compounded by the empty yellow suitcase usually reserved for gifts to and from Grandma, but when she discovers a gift left behind just for her, Asha realizes that the memory of her grandmother will live on inside her, no matter where she lives.
---
Title: The Boy Who Grew a Forest
Author: Sophia Gholz
Illustrator: Kayla Harren
Publisher: Sleeping Bear Press
Publication Date: March 15, 2019
ISBN: 978-1534110243
Category-Genre: Picture Book – Non-Fiction
Synopsis:
As a boy, Jadav Payeng was distressed by the destruction deforestation and erosion was causing on his island home in India's Brahmaputra River. So he began planting trees. What began as a small thicket of bamboo, grew over the years into 1,300 acre forest filled with native plants and animals. The Boy Who Grew a Forest tells the inspiring true story of Payeng–and reminds us all of the difference a single person with a big idea can make.
---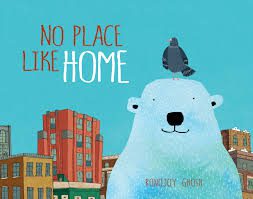 Title: No Place Like Home
Author/Illustrator: Ronojoy Ghosh
Publisher: Eerdmans
Publication Date: April 30, 2019
ISBN: 978-0802855220
Category-Genre: Picture Book
Synopsis:
A hilarious story about finding your place in the world. George is a bit of a grump. He doesn't like ice cream, his tiny house, or the crowded city he lives in. Perhaps he would be happier if he could find a place that truly feels like home. And so George decides to go exploring… Young children will delight in this fun, inviting story about discovering where you really belong.
---
Title: Yasmin the Chef/Zookeeper/Teacher/Superhero
Author: Saadia Faruqi
Illustrator: Hatem Aly
Publisher: Picture Window Books
Publication Date: January 1, 2019
ISBN:
Chef: 978-1515845782
Zookeeper: 978-1515845812
Teacher: 978-1515845805
Superhero: 978-1515845799
Category-Genre: Early Chapter Books
Synopsis:
Chef: Yasmin loves hosting parties! Music, friends, fun! But what she doesn't love is the spicy food her Pakistani family serves. Yasmin puts on her chef hat and plans to make her own amazing, fantastic recipe…as soon as she figures out what that is!
Zookeeper: Yasmin's class is going to the zoo! The students love watching the animals do silly things, but when Yasmin is chosen to feed the monkeys, she's the one that does something silly. Can Yasmin fix her mistake and make friends with the monkeys?
Teacher: Ms. Alex gets called away―and puts Yasmin in charge! Being teacher will be a snap! But when things go wrong, Yasmin must think fast to get the class back on track before Ms. Alex gets back.
Superhero: Superhero Yasmin! She's got the cape. She's got the mask. Now she just needs a villain to defeat! While she's looking for one, she meets lots of friends and neighbors who need her help, but no villains. Then Yasmin discovers that she might not need a villain to wield her super powers!
---
Title: Yasmin in Charge
Author: Saadia Faruqi
Illustrator: Hatem Aly
Publisher: Picture Window Books
Publication Date: March 1, 2019
ISBN:  978-1515842729
Category-Genre: Early Chapter Books
Synopsis:
In this collection of four stories, Yasmin takes charge of some sticky situations! At home, at school, or out and about, Yasmin faces challenges head on with creativity and quick thinking. Whether she's creating a new recipe, finding a way to rescue a stuck toy for a little friend, or calming down monkeys (and classmates!), a clever solution to any problem is just around the corner!
---
Title: Mangoes, Mischief, and Tales of Friendship: Stories from India
Author: Chitra Soundar
Illustrator: Uma Krishnaswamy
Publisher: Candlewick Press
Publication Date: December 31, 2018
ISBN: 978-1536200676
Category-Genre: Middle Grade – Folktale
Synopsis:
Can Prince Veera and his best friend outsmart the king's trickiest subjects? Inspired by traditional Indian folktales, these stories are sure to delight.
Being a wise and just ruler is no easy task. That's what Prince Veera discovers when he and his best friend, Suku, are given the opportunity to preside over the court of his father, King Bheema. Some of the subjects' complaints are easily addressed, but others are much more challenging. How should they handle the case of the greedy merchant who wishes to charge people for enjoying the smells of his sweets? And can they prove that an innocent man cannot possibly spread bad luck? Will Prince Veera and Suku be able to settle the dispute between a man and his neighbor to whom he sells a well — but not the water in it? Or solve the mystery of the jewels that have turned into pickles? Illustrated throughout by Uma Krishnaswamy, these eight original tales by Chitra Soundar task Veera and Suku with outwitting the kingdom's greediest, wiliest subjects. Are the two clever boys up to the challenge?
---
Title: The Bridge Home
Author: Padma Venkatraman
Publisher: Nancy Paulsen Books
Publication Date: February 5, 2019
ISBN: 978-1524738112
Category-Genre: Middle Grade
Synopsis:
Four determined homeless children make a life for themselves in Padma Venkatraman's stirring middle-grade debut.
Life is harsh in Chennai's teeming streets, so when runaway sisters Viji and Rukku arrive, their prospects look grim. Very quickly, eleven-year-old Viji discovers how vulnerable they are in this uncaring, dangerous world. Fortunately, the girls find shelter–and friendship–on an abandoned bridge. With two homeless boys, Muthi and Arul, the group forms a family of sorts. And while making a living scavenging the city's trash heaps is the pits, the kids find plenty to laugh about and take pride in too. After all, they are now the bosses of themselves and no longer dependent on untrustworthy adults. But when illness strikes, Viji must decide whether to risk seeking help from strangers or to keep holding on to their fragile, hard-fought freedom.
---
Title: Game of Stars (Kiranmala and the Kingdom Beyond #2)
Author: Sayantani DasGupta
Publisher: Scholastic Press
Publication Date: February 26, 2019
ISBN: 978-1338185737
Category-Genre: Middle Grade – Fantasy
Synopsis:
Saving the multiverse is no game
When the Demon Queen shows up in her bedroom, smelling of acid and surrounded by evil-looking bees, twelve-year-old Kiranmala is uninterested. After all, it's been weeks since she last heard from her friends in the Kingdom Beyond, the alternate dimension where she was born as an Indian princess. But after a call to action over an interdimensional television station and a visit with some all-seeing birds, Kiran decides that she has to once again return to her homeland, where society is fraying, a terrible game show reigns supreme, and friends and foes alike are in danger. Everyone is running scared or imprisoned following the enactment of sudden and unfair rules of law.
However, things are a lot less clear than the last time she was in the Kingdom Beyond. Kiran must once again solve riddles and battle her evil Serpent King father — all while figuring out who her true friends are, and what it really means to be a hero.
---
Title: Orange for the Sunsets
Author: Tina Athaide
Publisher: Katherine Tegen Books
Publication Date: April 2, 2019
ISBN: 978-0062795298
Category-Genre: Middle-Grade – Historical
Synopsis:
Asha and her best friend, Yesofu, never cared about the differences between them: Indian. African. Girl. Boy. Short. Tall.
But when Idi Amin announces that Indians have ninety days to leave the country, suddenly those differences are the only things that people in Entebbe can see—not the shared after-school samosas or Asha cheering for Yesofu at every cricket game.
Determined for her life to stay the same, Asha clings to her world tighter than ever before. But Yesofu is torn, pulled between his friends, his family, and a promise of a better future. Now as neighbors leave and soldiers line the streets, the two friends find that nothing seems sure—not even their friendship.
Tensions between Indians and Africans intensify and the deadline to leave is fast approaching. Could the bravest thing of all be to let each other go?
---
Title: Firestarter (Book #3 Timekeeper)
Author: Tara Sim
Publisher: Sky Pony Press
Publication Date: January 15, 2019
ISBN: 978-1510706200
Category-Genre: Young Adult – Historical Fantasy
Synopsis:
The crew of the Prometheus is intent on taking down the world's clock towers so that time can run freely. Now captives, Colton, Daphne, and the others have a stark choice: join the Prometheus's cause or fight back in any small way they can and face the consequences. But Zavier, leader of the terrorists, has a bigger plan—to bring back the lost god of time.
As new threats emerge, loyalties must shift. No matter where the Prometheus goes—Prague, Austria, India—nowhere is safe, and every second ticks closer toward the eleventh hour. Walking the line between villainy and heroism, each will have to choose what's most important: saving those you love at the expense of the many, or making impossible sacrifices for the sake of a better world.
---
Title: The Love and Lies of Rukhsana Ali
Author: Sabina Khan
Publisher: Scholastic Press
Publication Date: January 29, 2019
ISBN: 978-1338227017
Category-Genre: Young Adult – Contemporary
Synopsis:
Seventeen-year-old Rukhsana Ali has always been fascinated by the universe around her and the laws of physics that keep everything in order. But her life at home isn't so absolute.
Unable to come out to her conservative Muslim parents, she keeps that part of her identity hidden. And that means keeping her girlfriend, Ariana, a secret from them too. Luckily, only a few more months stand between her carefully monitored life at home and a fresh start at Caltech in the fall. But when Rukhsana's mom catches her and Ariana together, her future begins to collapse around her.
Devastated and confused, Rukhsana's parents whisk her off to stay with their extended family in Bangladesh where, along with the loving arms of her grandmother and cousins, she is met with a world of arranged marriages, religious tradition, and intolerance. Fortunately, Rukhsana finds allies along the way and, through reading her grandmother's old diary, finds the courage to take control of her future and fight for her love.
---
Title: Beauty of the Moment
Author: Tanaz Bhathena
Publisher: Farrar, Straus and Giroux
Publication Date: February 26, 2019
ISBN: 978-0374308445
Category-Genre: Young Adult – Contemporary
Synopsis:
Susan is the new girl―she's sharp and driven, and strives to meet her parents' expectations of excellence. Malcolm is the bad boy―he started raising hell at age fifteen, after his mom died of cancer, and has had a reputation ever since.
Susan's parents are on the verge of divorce. Malcolm's dad is a known adulterer.
Susan hasn't told anyone, but she wants to be an artist. Malcolm doesn't know what he wants―until he meets her.
Love is messy and families are messier, but in spite of their burdens, Susan and Malcolm fall for each other. The ways they drift apart and come back together are testaments to family, culture, and being true to who you are.
---
Title: Internment
Author: Samira Ahmed
Publisher: Little, Brown Books for Young Readers
Publication Date: March 19, 2019
ISBN: 978-0316522694
Category-Genre: Young Adult – Speculative
Synopsis:
Set in a horrifying near-future United States, seventeen-year-old Layla Amin and her parents are forced into an internment camp for Muslim American citizens.
With the help of newly made friends also trapped within the internment camp, her boyfriend on the outside, and an unexpected alliance, Layla begins a journey to fight for freedom, leading a revolution against the internment camp's Director and his guards.
Heart-racing and emotional, Internment challenges readers to fight complicit silence that exists in our society today.
---
Title: Forward Me Back to You
Author: Mitali Perkins
Publisher: Farrar, Straus and Giroux
Publication Date: April 2, 2019
ISBN: 978-0374304928
Category-Genre: Young Adult
Synopsis:
Katina King is the reigning teen jiu-jitsu champion of Northern California, but she's having trouble fighting off the secrets in her past.
Robin Thornton was adopted from an orphanage in Kolkata, India and is reluctant to take on his future. Since he knows nothing about his past, how is he supposed to figure out what comes next?
Robin and Kat meet in the most unlikely of places ― a summer service trip to India to work with survivors of human trafficking. As bonds blossom between the travel-mates, Robin and Kat discover the healing superpowers of friendship.
At turns heart-wrenching, beautiful, and buoyant, Mitali Perkins's new novel explores the ripple effects of violence ― across borders and generations ― and how small acts of heroism can break the cycle.
---
Title: The Tiger at Midnight
Author: Swati Teerdhala
Publisher: Katherine Tegen Books
Publication Date: April 23, 2019
ISBN: 978-0062869210
Category-Genre: Young Adult – Fantasy
Synopsis:
A broken bond. A dying land. A cat-and-mouse game that can only end in bloodshed.
Esha lost everything in the royal coup—and as the legendary rebel known as the Viper, she's made the guilty pay. Now she's been tasked with her most important mission to date: taking down the ruthless General Hotha.
Kunal has been a soldier since childhood. His uncle, the general, has ensured that Kunal never strays from the path—even as a part of Kunal longs to join the outside world, which has only been growing more volatile.
When Esha and Kunal's paths cross one fated night, an impossible chain of events unfolds. Both the Viper and the soldier think they're calling the shots, but they're not the only players moving the pieces.
As the bonds that hold their land in order break down and the sins of the past meet the promise of a new future, both the soldier and the rebel must decide where their loyalties lie: with the lives they've killed to hold on to or with the love that's made them dream of something more.