Welcome Readers! Sorry for the delay. I hope you all are staying safe, healthy, and practicing your social distancing. I'm in the San Francisco Bay area where we have a "shelter-at-home" order, which basically means everything is shut down except for essentials. So life is interesting working from home with the whole family in the house. With the cancellations of author events and book festivals, independent booksellers are being hit hard with the pandemic. Please consider pre-ordering that book you are dying to read now or buy a gift certificate. Booksellers need the cash infusion now. My local bookstores are offering free or discounted shipping for a limited time.
I have 22 books to share!! If you would like to check-out past round-ups visit the South Asian Kidlit page on my website.
Today's list covers books releasing from March through May of 2020. The books listed below are traditionally published and are either by a South Asian author or illustrator, contains a South Asian main character, or involve South Asian culture. The books are organized by Category and then Publication Date.
Title: Feast of Peas
Author: Kashmira Sheth
Illustrator: Jeffrey Ebbeler
Publisher: Peachtree Publishing
Publication Date: March 1, 2020
ISBN: 978-1682631355
Category-Genre: Picture Book
Community Represented: Indian
Synopsis:
Hard-working Jiva might not be the only one anticipating a delicious feast of peas from his garden. Every morning, Jiva works in his garden. He plants peas and beans, potatoes and tomatoes, eggplants and okra in his vegetable patch. But each time Jiva is ready to pick the peas for his feast, they're already gone. What has happened? This original story set in India features a deliciously amusing mystery about gardening, anticipation, hard work, and generosity.
Title: All the Way to the Top: How One Girl's Fight for Americans with Disabilities Changed Everything

Author: Annette Bay Pimentel
Illustrator: Nabigal-Nayagam Haider Ali
Publisher: Sourcebooks
Publication Date: March 1, 2020
ISBN: 978-1492688976
Category-Genre: Picture Book – Biography
Synopsis:
Jennifer Keelans was determined to make a change―even if she was just a kid. She never thought her wheelchair could slow her down, but it was hard to get around. Jennifer knew that everyone deserves a voice! When the Americans with Disabilities Act was proposed to Congress, to make sure it passed, Jennifer went to the steps of the Capitol building in Washington DC to convince them. And, without her wheelchair, she climbed.
Title: I am Brown
Author: Ashok Banker
Illustrator: Sandhya Prabhat
Publisher: Lantana Publishing
Publication Date: March 3, 2020
ISBN: 978-1911373940
Category-Genre: Picture Book
Synopsis:
I am brown. I am beautiful. I am perfect. I designed this computer. I ran this race. I won this prize. I wrote this book. A joyful celebration of the skin you're in – of being brown, of being amazing, of being you.
Title: Like the Moon Loves the Sky

Author: Hena Khan
Illustrator: Saffa Khan
Publisher: Chronicle Books
Publication Date: March 10, 2020
ISBN: 978-1452180199
Category-Genre: Picture Book
Community Represented: Muslim
Synopsis:
A lyrical and heartwarming celebration of a mother's love for her children."Inshallah you find wonder in birds as they fly. Inshallah you are loved, like the moon loves the sky." With vibrant illustrations and prose inspired by the Quran, this charming picture book is a heartfelt and universal celebration of a parent's unconditional love.
Title: Welcome to Your World
Author: Smriti Prasadam-Halls
Illustrator: Jaime Kim
Publisher: Candlewick Press
Publication Date: March 10, 2020
ISBN: 978-1536206227
Category-Genre: Picture Book
Synopsis:
Traverse the animal kingdom, from ice-capped mountains to the depths of the sea, for a gorgeous celebration of the joys of a new baby.
Title: A Hatful of Dragons: And More Than 13.8 Billion Other Funny Poems

Author/Illustrator: Vikram Madan
Publisher: Wordsong
Publication Date: March 17, 2020
ISBN: 978-1684371501
Category-Genre: Picture Book – Poetry
Synopsis:
This funny poetry book is chockful of unusual characters: panda and pangolin musicians, mail-order eggs that hatch (surprise!) dinosaurs, ten aliens with a garden-gnome pal, a robot uncle, lots and lots of dragons, and a professor who uses his Page Machine to travel to multiple pages within the book. Vikram Madan's ingenious poems take many forms, from limerick to rebus to a fill-in-the-blank poem that offers more than 13.8 billion funny combinations. All feature clever wordplay, impeccable rhythm and rhyme, and riotous punchlines.
Title: Child of the Universe
Author: Ray Jayawardhana
Illustrator: Raul Colón
Publisher: Make Me a World
Publication Date: March 17, 2020
ISBN: 978-1524717544
Category-Genre: Picture Book
Synopsis:
A lyrical meditation on the preciousness of one child and the vastness of the universe, this gorgeously illustrated picture book shares the immensity of a parent's love along with the message that we are all connected to the broader cosmos in important and intimate ways.
Title: The Seed of Compassion: Lessons from the Life and Teachings of His Holiness the Dalai Lama

Author: His Holiness the Dalai Lama
Illustrator: Bao Luu
Publisher: Kokila
Publication Date: March 24, 2020
ISBN: 978-0525555148
Category-Genre: Picture Book
Community Represented: Buddhist
Synopsis:
With simple, powerful text, the Dalai Lama shares the universalist teachings of treating one another with compassion. His Holiness the Dalai Lama addresses shares lessons of peace and compassion, told through stories of his own childhood.
Title: Lali's Feather
Author: Farhana Zia
Illustrator: Stephanie Fizer Coleman
Publisher: Peachtree Publishing
Publication Date: April 1. 2020
ISBN: 978-1682631294
Category-Genre: Picture Book
Community Represented: Indian
Synopsis:
Lali finds a little feather in the field. Is it lost? Lali sets out to find feather a home, but one bird after another rejects it. The feather is too small for Rooster, too slow for Crow, and too plain for Peacock. Once Lali decides to keep the little feather and discovers all the things she can do with it, the other birds begin to recognize its value.
Title: The Life of Buddha

Author: Heather Sanche
Illustrator: Tara di Gesu
Publisher: Bala Kids
Publication Date: April 28, 2020
ISBN: 978-1611806298
Category-Genre: Picture Book – Biography
Community Represented: Buddhist
Synopsis:
So begins the extraordinary story of the life of Siddhartha Gautama, the prince who would become the enlightened Buddha, the Awakened One. This classic tale follows Prince Siddhartha's journey of truth-seeking and discovery, including his life-altering encounters with human suffering and his realization of the Four Noble Truths. Today, millions of people all over the world follow the Buddha's teachings on meditation, selflessness, and compassion. Rendered here in exquisite original watercolor illustrations, this inspiring story is brought to life for young readers curious about one of history's most monumental and influential figures.
Title: Grandmother School
Author: Rina Singh
Illustrator: Ellen Rooney
Publisher: Orca Book Publishers
Publication Date: May 5, 2020
ISBN: 978-1459819054
Category-Genre: Picture Book
Community Represented: Indian
Synopsis:
Every morning, a young girl walks her grandmother to the Aajibaichi Shala, the school that was built for the grandmothers in her village to have a place to learn to read and write. The narrator beams with pride as she drops her grandmother off with the other aajis to practice the alphabet and learn simple arithmetic. A moving story about family, women and the power of education―when Aaji learns to spell her name you'll want to dance along with her. Based on a true story from the village of Phangane, India, this brilliantly illustrated book tells the story of the grandmothers who got to go to school for the first time in their lives.
Title: The Fighting Infantryman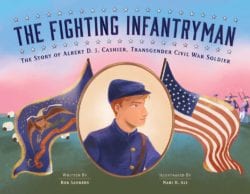 Author: Rob Sanders
Illustrator: Nabi Ali
Publisher: Little Bee Books
Publication Date: May 5, 2020
ISBN: 978-1499809367
Category-Genre: Picture Book-Biography
Synopsis:
In 1861, the winds of war blew through the United States. Jennie Hodgers, a young immigrant from Ireland, moved west to Illinois and soon had a new name and a new identity–Albert D. J. Cashier. Like many other young men, Albert joined the Union Army. Though the smallest soldier in his company, Albert served for nearly three years and fought in forty battles and skirmishes. When the war ended, Albert continued to live his life as a man. His identity fits him as snug as his suspenders.
Title: Finding Om
Author: Rashmi Bismark
Illustrator: Morgan Huff
Publisher: Mango & Marigold Press
Publication Date: May 12, 2020
ISBN: 978-1645433873
Category-Genre: Picture Book
Community Represented: Indian-American
Synopsis:
Anu, an American girl of Indian and African descent, explores the mantra Om with her beloved grandfather, Appuppa. Through this story, she begins to develop techniques of mindfulness, that readers can explore along with her. This wonderful multicultural, inter-generational story is sure to become a staple in classrooms and homes across the world.
Title: Desert Girl Monsoon Boy

Author: Tara Dairman
Illustrator: Archana Sreenivasan
Publisher: G.P. Putnam's Sons Books for Young Readers
Publication Date: May 12, 2020
ISBN: 978-0525518068
Category-Genre: Picture Book
Community Represented: Indian
Synopsis:
One girl. One boy. Their lives couldn't be more different. While she turns her shoulder to sandstorms and blistering winds, he cuffs his pants when heavy rains begin to fall. As the weather becomes more severe, their families and animals must flee to safety–and their destination shows that they might be more alike than they seem. The journeys of these two children experiencing weather extremes in India highlight the power of nature and the resilience of the human spirit.
Title: Aru Shah and the Tree of Wishes
Author: Roshani Choksi
Publisher: Rick Riordan Presents
Publication Date: April 7, 2020
ISBN: 978-1368013857
Category-Genre: Middle-Grade – Fantasy
Synopsis:
War between the devas and the demons is imminent, and the Otherworld is on high alert. When intelligence from the human world reveals that the Sleeper is holding a powerful clairvoyant and her sister captive, 14-year-old Aru and her friends launch a search-and-rescue mission. The captives, a pair of twins, turn out to be the newest Pandava sisters, though, according to a prophecy, one sister is not true. During the celebration of Holi, the heavenly attendants stage a massage PR rebranding campaign to convince everyone that the Pandavas are to be trusted. As much as Aru relishes the attention, she fears that she is destined to bring destruction to her sisters, as the Sleeper has predicted. Aru believes that the only way to prove her reputation is to find the Kalpavriksha, the wish-granting tree that came out of the Ocean of Milk when it was churned. If she can reach it before the Sleeper, perhaps she can turn everything around with one wish.
Title: The Chaos Curse (Kiranmala and the Kingdom Beyond #3)

Author: Sayantani DasGupta
Publisher: Scholastic
Publication Date: March 3, 2020
ISBN: 978-1338355895
Category-Genre: Middle-Grade – Fantasy
Synopsis:
Kiranmala must leave the Kingdom Beyond and travel to her hometown of Parsippany to save Prince Lal, who has been spirited to the unlikeliest of places — a tree in the yard of her best-enemy-for-life. She also faces evil serpents, plus a frightening prophecy about her role in the coming conflict between good and evil. Most troubling of all, though, is the way reality all around her seems to waver and flicker at odd moments. Could it be that the Anti-Chaos Committee's efforts are causing a dangerous disruption in the multiverse?
Title: A Place at the Table
Author: Saadia Faruqi and Laura Shovan
Publisher: Clarion Books
Publication Date: May 12, 2020
ISBN: 978-0358116684
Category-Genre: Middle-Grade – Contemporary
Community Represented: Pakistani-American
Synopsis:
Sixth graders Sara and Elizabeth could not be more different. The girls meet in an after-school South Asian cooking class. The girls form a shaky alliance that gradually deepens, and they make plans to create the most amazing, cross-cultural dish together and win a spot on a local food show. They make good cooking partners . . . but can they learn to trust each other enough to become true friends? A novel that explores themes of food, friendship, family, and what it means to truly belong.
Title: Diana and the Island of No Return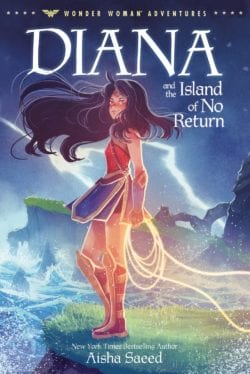 Author: Aisha Saeed
Publisher: Random House Books for Young Readers
Publication Date: May 26, 2020
ISBN: 978-0593174470
Category-Genre: Middle-Grade – Fantasy
Synopsis:
Young Princess Diana is fierce and whip-smart, and she loves her island home of Themyscira. Her deepest wish is to be able to train with the rest of the Amazons and protect her homeland–but she's told it's out of the question. This is the year Diana hopes to persuade her mother, Queen Hippolyta, to let her learn how to fight when the world's most powerful women gather on Themyscira for a festival to celebrate their different cultures. But at the start of the festivities, an unexpected and forbidden visitor–a boy!–brings news of an untold danger that threatens Themyscira and all of its sacred neighboring lands. It's up to Diana and her best friend, Princess Sakina, to save them, even if it means tangling with a cunning demon who reveals that a terrifying force is out to capture Diana against her will.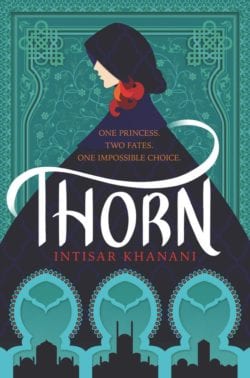 Title: Thorn
Author: Intisar Khanani
Publisher: HarperTeen
Publication Date: March 24, 2020
ISBN: HarperTeen (March 24, 2020)
Category-Genre: Young Adult – Fantasy
Synopsis:
Princess Alyrra has always longed to escape the confines of her royal life, but when her mother betroths her to a powerful prince in a distant kingdom, she has little hope for a better future. Until Alyrra arrives at her new kingdom, where a mysterious sorceress robs her of both her identity and her role as princess—and Alyrra seizes on the opportunity to start a new life for herself as a goose girl. But as Alyrra uncovers dangerous secrets about her new world, including a threat to the prince himself, she knows she can't remain silent forever. With the fate of the kingdom at stake, Alyrra is caught between two worlds, and ultimately must decide who she is and what she stands for.
Title: Brown Girl Ghosted

Author: Mintie Das
Publisher: Versify
Publication Date: March 24, 2020
ISBN: 978-0358128892
Category-Genre: Young Adult – Paranormal Thriller
Synopsis:
Violet Choudhury may be part of the popular clique at school, but as one of a handful of brown girls in a small Illinois town, all she really wants to do is blend in and disappear. Unfortunately for her, she's got a knack for seeing spirits, including the dead—something she's tried to ignore all her life. But when the queen bee of Violet's cheerleading squad ends up dead following a sex tape that's not as consensual as everyone wants to believe, Violet's friends from the spirit world decide it's the perfect time for Violet to test her skills and finally accept the legacy of spiritual fighters from whom she's descended. Her mission? Find the killer.
Title: We are Totally Normal
Author: Rahul Kanakia
Publisher: HarperTeen
Publication Date: March 31, 2020
ISBN: 978-0062865816
Category-Genre: Young Adult – Contemporary
Synopsis:
Nandan's got a plan to make his junior year perfect, but hooking up with his friend Dave isn't part of it—especially because Nandan has never been into guys. Still, Nandan's willing to give a relationship with him a shot. But the more his anxiety grows about what his sexuality means for himself, his friends, and his social life, the more he wonders whether he can just take it all back. Is breaking up with Dave—the only person who's ever really gotten him—worth feeling "normal" again?
Title: Mad, Bad and Dangerous to Know

Author: Samira Ahmed
Publisher: Soho Teen
Publication Date: April 7, 2020
ISBN:  978-1616959890
Category-Genre: Young Adult – Historical Fiction/Contemporary
Synopsis:
It's August in Paris and 17-year-old Khayyam Maquet—American, French, Indian, Muslim—is at a crossroads. This holiday with her parents should be a dream trip for the budding art historian. But her maybe-ex-boyfriend is probably ghosting her, she might have just blown her chance at getting into her dream college, and now all she really wants is to be back home in Chicago figuring out her messy life instead of brooding in the City of Light.
Two hundred years before Khayyam's summer of discontent, Leila is struggling to survive and keep her true love hidden from the Pasha who has "gifted" her with favored status in his harem. In the present day—and with the company of a descendant of Alexandre Dumas—Khayyam begins to connect allusions to an enigmatic 19th-century Muslim woman whose path may have intersected with Alexandre Dumas, Eugène Delacroix, and Lord Byron.
Echoing across centuries, Leila and Khayyam's lives intertwine, and as one woman's long-forgotten life is uncovered, another's is transformed.