Happy New Year!! Hoping 2021 brings better things to you and your loved ones.
My kids are itching to know when can we go on vacation and if they will be able to attend sleep-away camp in the summer. I'm wondering whether I will I be able to have a physical launch party for my debut in June. Who knows? I'm just going with the flow.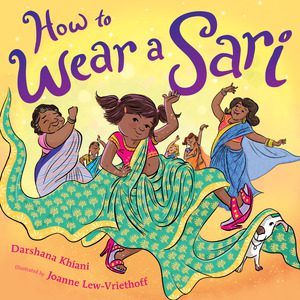 My picture book HOW TO WEAR A SARI is available for pre-order! If you are planning to order a copy, then please consider purchasing from your favorite local independent bookstore. They really need your help during these difficult times. You can also add my book to your "Want to Read" list on Goodreads. Thanks for your support!
Today's list covers books releasing in January and February of 2021. The books listed below are traditionally published and are either by a South Asian author or illustrator, contains a South Asian main character, or involve South Asian culture. The books are organized by Category and then Publication Date.
For a list of today's books, check out my South Asian Kidlit Winter 2021 list at Bookshop.org.
Title: Rise Up and Write It: With Real Mail, Posters, and More!
Author: Nandini Ahuja
Illustrator: Anoosha Syed
Publisher: HarperFestival
Publication Date: January 5, 2021
ISBN: 978-0063029590
Category-Genre: Picture Book – Social Justice
Community Represented: Indian-American
Synopsis:
When Farah Patel realizes that the butterflies have disappeared from her neighborhood, she discovers that it's likely because there aren't enough flowers to attract them. She can't help but think, "This isn't right." Luckily enough, Grove Hills is looking for ideas on what to do with the empty lot next door. And Farah has the perfect one—make it into a community garden to bring back a little green to their block! But when Farah finds out that she isn't the only one with a plan for the future of Grove Hills, she'll have to turn to her community for help. Open the six envelopes inside to follow along with the story Farah as she rises up and brings her neighborhood together. The book comes complete with a pull-out letter to the mayor, a ready-to-sign petition, a community meeting poster, a protest sign—and more!
Title: Bindiya in India

Author: Monique Chheda
Illustrator: Debasmita Dasgupta
Publisher: Mango & Marigold Press
Publication Date: January 2021
ISBN: 978-1645437130
Category-Genre: Picture Book
Community Represented: Indian
Synopsis:
Bindiya in India is the story of a young Indian-American girl's first trip to India for an Indian wedding. Weaving together Hindi and English, the children's illustrated book takes place in the 1990s. Follow Bindiya as she meets her extended family for the first time, celebrates Indian wedding traditions, and creates memories and bonds to last a lifetime.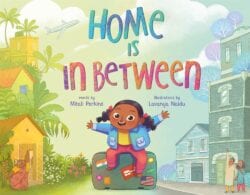 Title: Home is in Between
Author: Mitali Perkins
Illustrator: Lavanya Naidu
Publisher: Farrar, Straus and Giroux (BYR)
Publication Date: February 23, 2021
ISBN: 978-0374303679
Category-Genre: Picture Book
Community Represented: Indian-American
Synopsis:
Shanti misses the warm monsoon rains in India. Now in America, she watches fall leaves fly past her feet. Still, her family's apartment feels like a village: Mama cooking luchi, funny stories in Bangla, and Baba's big laugh. But outside, everything is different – trick-or-treating, ballet class, and English books. Back and forth, Shanti trudges between her two worlds. She remembers her village and learns her new town. She watches Bollywood movies at home and Hollywood movies with her friends. She is Indian. She is also American. How should she define home?

Title: Yasmin the Librarian / Recycler / Scientist / Singer
Author: Saadia Faruqi
Illustrator: Hatem Aly
Publisher: Picture Book Windows
Publication Date: January 1, 2021
ISBNs:
Librarian: 978-1515883722
Recycler: 978-1515882619
Scientist: 978-1515882602
Singer: 978-1515882626
Category-Genre: Early Chapter Books
Community Represented: Pakistani-American
Synopsis:
Librarian: It's library day, and Yasmin is the helper! She loves shelving books, but suddenly, Yasmin discovers that her own special book is missing. How will she find it among all the other books?
Recycler: Yasmin is thrilled about her school's new recycling program. But getting her friends to pitch in is no easy task! Will some creative thinking get Yasmin's friends to be good recyclers?
Scientist: Everyone seems to have an idea for the science fair except for Yasmin! After some failed experiments, Yasmin's snack break with Nani inspires an idea. Together they use kitchen science for sweet success!
Singer: Yasmin is excited to attend a wedding party. But when the singing starts, Yasmin is too shy to join in. She finds a quiet spot to hide. So how does Yasmin suddenly find herself in the spotlight?
Title: Cooking Club Chaos! #4 (Phoebe G. Green)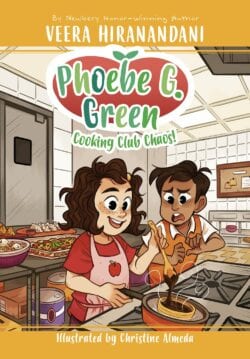 Author: Veera Hiranandani
Illustrator: Christine Almeda
Publisher: Penguin Workshop
Publication Date: February 23, 2021
ISBN: 978-0593096963
Category-Genre: Chapter Book
Synopsis:
Phoebe's best friend, Sage, has the same lunch every day: a turkey sandwich, a cheese stick, and a bag of popcorn. Phoebe doesn't understand why he won't try new things, and is determined to convince him to. She and Camille come up with the perfect solution: a cooking club to show Sage how many exciting foods there are! But will it be enough to convince Sage? Or will it spoil their friendship?
Title: City of the Plague God

Author: Sarwat Chadda
Publisher: Disney/Rick Riordan Presents
Publication Date: January 12, 2021
ISBN: 978-1368051507
Category-Genre: Middle Grade – Fantasy
Synopsis:
Characters from the Epic of Gilgamesh populate this high-stakes contemporary adventure in which all of Manhattan is threatened by the ancient god of plagues.
Thirteen-year-old Sik wants a simple life going to school and helping at his parents' deli in the evenings. But all that is blown to smithereens when Nergal comes looking for him, thinking that Sik holds the secret to eternal life.Turns out Sik is immortal but doesn't know it, and that's about to get him and the entire city into deep, deep trouble.
Sik's not in this alone. He's got Belet, the adopted daughter of Ishtar, the goddess of love and war, on his side, and a former hero named Gilgamesh, who has taken up gardening in Central Park. Now all they have to do is retrieve the Flower of Immortality to save Manhattan from being wiped out by disease. To succeed, they'll have to conquer sly demons, treacherous gods, and their own darkest nightmares.
Title: Red, White, and Whole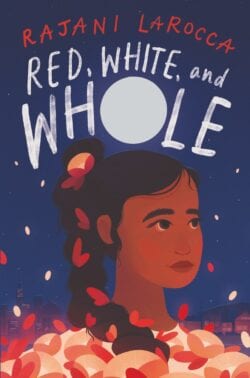 Author: Rajani LaRocca
Publisher: Harper Collins/Quill Tree
Publication Date: February 2, 2021
ISBN:  978-0063047426
Category-Genre: Middle Grade
Community Represented: Indian-American
Synopsis:
Reha feels torn between two worlds: school, where she's the only Indian American student, and home, with her family's traditions and holidays. But Reha's parents don't understand why she's conflicted—they only notice when Reha doesn't meet their strict expectations. Reha feels disconnected from her mother, or Amma, although their names are linked—Reha means "star" and Punam means "moon"—but they are a universe apart. Then Reha finds out that her Amma is sick. Really sick. Reha, who dreams of becoming a doctor even though she can't stomach the sight of blood, is determined to make her Amma well again. She'll be the perfect daughter, if it means saving her Amma's life.
Title: Strong as Fire, Fierce as Flame

Author: Supriya Kelkar
Publisher: Lee&Low/Tu Books
Publication Date: February 24, 2021
ISBN:  978-1643790404
Category-Genre: Middle Grade – Historical
Community Represented: Indian
Synopsis:
In 1857 India, 12-year-old Meera escapes a life she has no say in–and certain death on her husband's funeral pyre–only to end up a servant to a British general in the East India Company. When a rebellion against British colonizers spreads, she must choose between relative safety in a British household or standing up for herself and her people.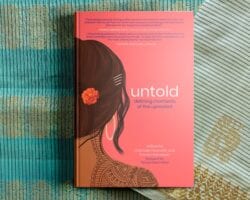 Title: Untold: Defining Moments of the Uprooted
Editors: Gabrielle Deonath and Kamini Ramdeen
Contributors: MK Ansari, Apoorva Verghese, Jessie Brar, Kimberly + Anantha, Nupur Chaudhury, Pooja Kumarhia Patel, Priyal Sakhuja, Subrina Singh, Amrisa Niranjan, Hena Wadhwa, Julie Lalwani, Meera Estrada, Nova Aftab, Radhika Patel, Ravleen Kaur, Rita Sengupta, Shimul Chowdhury, Gabrielle Deonath, Raksha Muthukumar, Anita Wadhwani, Chandra Coats, Duriba Khan, Neha Patel, Nina Malagi, Nisha Singh, Rajvir Gill, Saahil Mehta, Radhika Menon, Aishwarya Sukesh
Publisher: Mango & Marigold Press
Publication Date: January 2021
ISBN: TBD
Category-Genre: Young Adult – Anthology
Synopsis:
Untold: Defining Moments of the Uprooted is a collection of real stories that explores the South Asian experience in the U.S., U.K., and Canada through the lens of identity, being, and relationships. Thirty emerging voices share deeply personal moments of immigration, infertility, divorce, mental health, suicide, racism, colorism, LGBTQIA+ issues, and more all while balancing the push and pull of belonging to two cultural hemispheres. Every story sheds light on the authentic truths of living as womxn with hyphenated identities that have been only whispered-until now.
Title: Rise of the Red Hand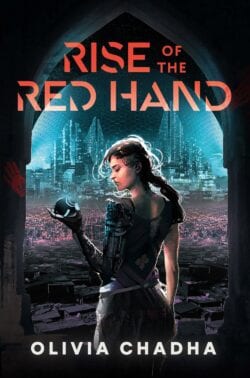 Author: Olivia Chadha
Publisher: Erewhon Books
Publication Date: January 19, 2021
ISBN: 978-1645660101
Category-Genre: Young Adult – Fantasy
Synopsis:
A rare, searing portrayal of the future of climate change in South Asia. A streetrat turned revolutionary and the disillusioned hacker son of a politician try to take down a ruthlessly technocratic government that sacrifices its poorest citizens to build its utopia.
Title: If I Tell You the Truth
Author: Jasmine Kaur
Publisher: HarperCollins
Publication Date: January 19, 2021
ISBN: 978-0062912640
Category-Genre: Young Adult – Contemporary – Verse
Synopsis:
Kiran flees her home in Punjab for a fresh start in Canada after a sexual assault leaves her pregnant. But overstaying her visa and living undocumented brings its own perils for both her and her daughter, Sahaara.
Sahaara would do anything to protect her mother. When she learns the truth about Kiran's past, she feels compelled to seek justice—even if it means challenging a powerful and dangerous man.
A heartrending story told in prose, poetry, and illustration weaves together the stories of a mother and daughter's lives.