Dear Faithful readers, thanks so much for stopping by for another South Asian Kidlit round-up! Last one for 2018. You can use the rest of this year to catch up on your reading since there are a whole bunch of new books coming out in 2019! If you would like to check-out past round-ups click on this link which will take you to my past South Asian Kidlit posts. Also stay tuned, since I will have some very exciting news of my own to share. 😉
The books listed below are traditionally published and are either by a South Asian author, contains a South Asian Main Character, or involves South Asian culture. The books are organized by Category and then Publication Date.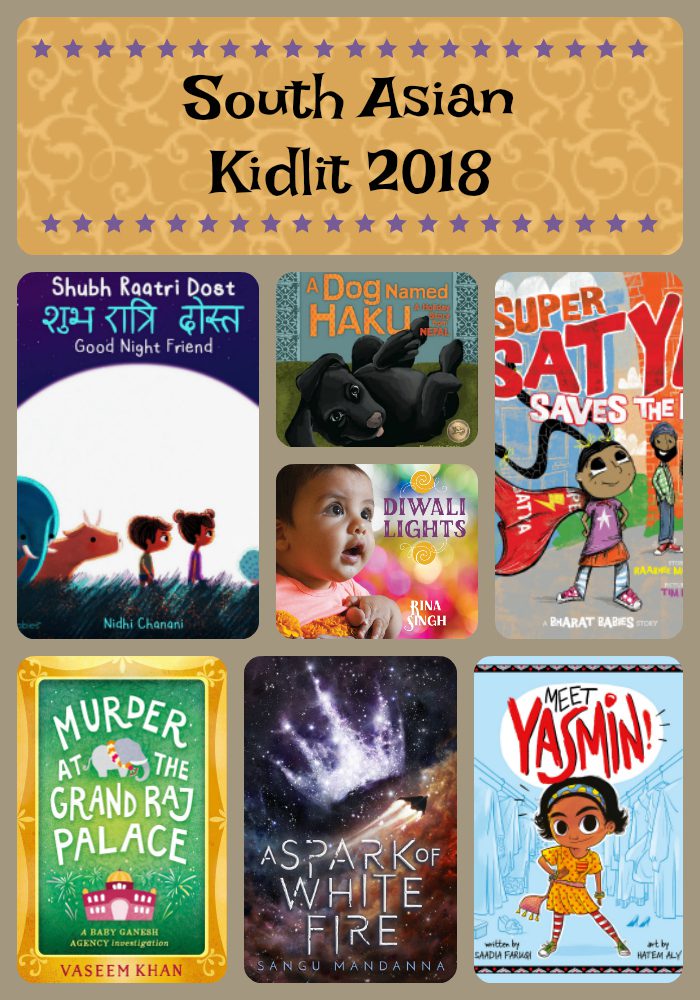 ---

Title: Diwali Lights

Author: Rina Singh
Publisher: Orca Books
Publication Date: August 28th, 2018
Category-Genre: Board Book – Concept Book
Synopsis: Every year in October or November, most Indians come together to celebrate Diwali.
All the stories of Diwali celebrate the victory of good over evil and light over darkness.
Diwali is the biggest and the brightest of all Indian festivals. Lakshmi, the goddess of wealth, is a central figure of the festival. Diwali is a time of great joy. Happy Diwali!
Bio: Rina Singh has published several critically acclaimed books for children inspired by her Indo-Canadian heritage. Her book – A Forest of Stories has been translated in many languages. Her book – Diwali: A Festival of Lights was nominated for the Red Cedar Award. This is her third book with Orca. She lives in a blue house in Toronto. Surrounded by tall trees, birds, squirrels, a rabbit, and a fish pond in her garden, she hopes to write many more books for children.
Website: www.rinasingh.com
Twitter: @storiesbysingh
Instagram: @storiesbysingh
---

Title: A Dog Named Haku, A Holiday Story From Nepal  

Authors: Amish Karanjit and Nicole Karajit, co-authored with Margarita Engle
Illustrator: Ruth Jeyaveeran
Publisher: Lerner Books
Publication Date: September 1, 2018
Category-Genre: Picture Book
Synopsis: Two adventurous young boys search Kathmandu for a stray dog to feed during a dog-honoring festival.
Bios: 
Amish Karanjit is from Nepal, and currently works as a medical biotech research associate near San Francisco. A Dog Named Haku was inspired by events from his own childhood, and by his family's survival after the 2015 earthquake.
Nicole Karanjit is a linguist and adult ELL instructor from California, currently working as a full-time mom and mixed-media artist near San Francisco.
Margarita Engle is the Cuban-American author of picture books such as Drum Dream Girl and All the Way to Havana. She is currently the Young People's Poet Laureate. Nicole is her daughter, and Amish is her son-in-law. They collaborated on A Dog Named Haku to provide two-year-old Maya Karanjit with a mirror book about her father's culture.
Margarita Engle
Website: www.margaritaengle.com
Facebook: https://www.facebook.com/margarita.engle.1
Twitter: @YPPLaureate
---
Title: Super Satya Saves the Day 

Author: Raakhee Mirchandani
Illustrator: Tim Palin
Publisher: Bharat Babies
Publication Date: October 2nd, 2018
Category-Genre: Picture Book
Synopsis: Super Satya is ready to have a super day, including finally conquering the tallest slide in Hoboken. But her day takes a not-so-super turn when she realizes her superhero cape is stuck at the dry cleaner. Will she be able to face her fears, help her friends and be the true hero everyone knows she is? Super Satya Saves The Day introduces Satya, a precocious Indian-American superhero.
Bio: Raakhee Mirchandani is an writer, editor, Jersey Girl and pediatric cancer crusader. Her work has appeared in Elle, Glamour, Wall Street Journal, New York Daily News, New York Post, Redbookand HuffPo. She's the Editor-in-Chief of Moneyish, published by Dow Jones. "Super Satya Saves the Day" is Raakhee's first book and is inspired by her own fiery 4-year-old daughter Satya.
Website: www.raakstar.com
Twitter: @Raakstar
Instagram: @RaakstarWrites
---

Title: Shubh Raatri Dost/Good Night Friend 

Author & Illustrator: Nidhi Chanani
Publisher: Bharat Babies
Publication Date: October 2018
Category-Genre: Board Book-Bilingual, Animal Primer
Synopsis: As day turns to night, follow Bhai (brother) and Behan (sister) in their Indian farm home while they bid their animal friends a good night. Children will love this sweet sleep tale that builds their Hindi and English vocabulary. Every page includes Hindi language script, Romanized Hindi, and English language, which makes each language accessible to your whole family.
Bio: Nidhi Chanani is a freelance illustrator, cartoonist and writer. She was born in Calcutta and raised in suburban southern California. She creates because it makes her happy – with the hope that it can make others happy, too. In April of 2012, she was honored by the Obama Administration as a Champion of Change.
Instagram: nidhiart
Twitter: @nidhiart
Tumblr: nidhiart
Facebook:  https://www.facebook.com/nidhichananiartist
---

Title: Meet Yasmin 

Author: Saadia Faruqi
Illustrator: Hatem Aly
Publisher: Picture Window Books/Capstone
Publication Date: August 1, 2018
Category-Genre: Early Chapter Books
Synopsis: Yasmin is a spirited second-grader who's always on the lookout for those "aha" moments to help her solve life's little problems. Taking inspiration from her surroundings and her big imagination, she boldly faces any situation, assuming her imagination doesn't get too big, of course! A creative thinker and curious explorer, Yasmin and her multi-generational Pakistani American family will delight and inspire readers.
Bios:
Saadia Faruqi is a Pakistani American writer, essayist and interfaith activist. She writes for a number of publications including the Huffington Post, and is editor-in-chief of Blue Minaret, a magazine for Muslim art, poetry and prose. Her adult short story collection Brick Walls: Tales of Hope & Courage from Pakistan was published in 2015.
Hatem Aly is an Egyptian-born illustrator whose work has been featured in multiple publications worldwide. One of the books he illustrated is The Inquisitor's Tale by Adam Gidwitz, which won a Newbery Honor and other awards despite Hatem's drawings of a farting dragon, a two-headed cat, and stinky cheese.
Saadia Faruqi
Website: www.saadiafaruqi.com
Facebook: @SaadiaFaruqiAuthor
Twitter: @SaadiaFaruqi
Instagram: @SaadiaFaruqi
Hatem Aly
Website: www.metahatem.com
Facebook: @MetaHatem
Twitter: @MetaHatem
Instagram: @MetaHatem
---

Title: Murder at the Grand Raj Palace 

Author: Vaseem Khan
Publisher: Redhook, Hachette Publishing
Publication Date: June 12, 2018
Category-Genre: Young Adult – Crime Fiction
Synopsis: When American billionaire Hollis Burbank is found dead in India's most iconic hotel the authorities are keen to label it a suicide. But the man in charge of the investigation is not so sure. Inspector Ashwin Chopra is called in – with his baby elephant sidekick – and discovers a hotel full of people with a reason to want Burbank dead…
Bio: Vaseem Khan is the author of the Mumbai-set Baby Ganesh Detective Agency series. The first book The Unexpected Inheritance of Inspector Chopra was a Times bestseller and an Amazon Best Debut. Born in London, Vaseem spent a decade working in India. He now works at University College London's Department of Security and Crime Science.
Website: http://vaseemkhan.com
Facebook: https://www.facebook.com/VaseemKhanOfficial/
Twitter: https://twitter.com/VaseemKhanUK
---

Title: A Spark of White Fire 

Author: Sangu Mandanna
Publisher: Sky Pony Press
Publication Date: September 11, 2018
Category-Genre: Young Adult-Space Opera
Synopsis: Inspired by the Mahabharata, A Spark of White Fire tells the story of Esmae, an orphan and servant who enters a competition and reveals herself to be the lost princess of a kingdom on the brink of a civil war. With an unbeatable, sentient warship on her side, she sets out to end the war and restore the crown to the rightful ruler.
Bio: Sangu Mandanna was four years old when an elephant chased her down a forest road and she decided to write her first story about it. Seventeen years and many, many manuscripts later, she signed her first book deal. Sangu now lives in Norwich, a city in the east of England, with her husband and kids.
Website: http://www.sangumandanna.com
Twitter: http://twitter.com/SanguMandanna
Instagram: http://instagram.com/sangumandanna