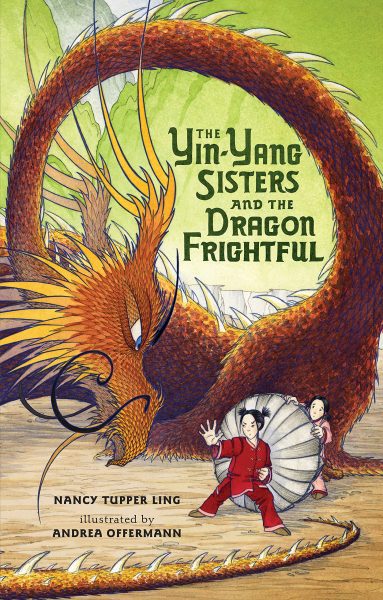 Title: The Yin-Yang Sisters and the Dragon Frightful
Author: Nancy Tupper Ling
Illustrator: Andrea Offermann
Publisher: G.P. Putnam's Sons, 2018
Book Type: Siblings, Teamwork, Dragons
Ages: 4-8
Opening Lines:
The villagers of Woo lived in fear of the dragon Frightful. His shadow wrapped around their town. His claws dug into their land, and when he snored, their houses shook like grains of rice. Just when it seemed things couldn't get any worse, they did.
Synopsis (from Amazon's website):
When a fearsome dragon takes over their village bridge, twin sisters Mei and Wei have opposing views of how to fix the problem. Wei wants nothing more than to confront that stinky old dragon head on, but Mei favors a more thoughtful approach. With Wei's confidence and gumption plus Mei's creativity and diligence, it's only a matter of time before everyone can be happy again.
This empowering sibling story is about celebrating differences and finding that what makes us different is also what makes us a powerful team.
Activities:
Why I Like This Book
A wonderful tale to remind readers of any age, that our differences make us stronger together.
In this charming tale set in rural China, Wei and Mei, twin sisters have grown-up seeing their parents always worn out from the long arduous walk over the hills to the other side. A pesky dragon has taken residence on the nearby bridge and won't budge. Wei, full of confidence and courage, decides to take on the dragon. But when things get a little scary for Wei, thoughtful and caring Mei is always there to help her sister. While Wei's approaches are more confrontational, Mei spends her time constructing a dragon shield and reading up on dragons. Together they are successful in getting the dragon to move and all are happy.
The storytelling style reminded me of old folktales. The pen and ink and watercolor illustrations are gorgeous. I especially loved the zoomed-out view of the village in the opening scene, and the quaint details such as terraced rice patties and brick and tiled-roof homes with the dragon looming in the foreground. The art transports the reader back in time.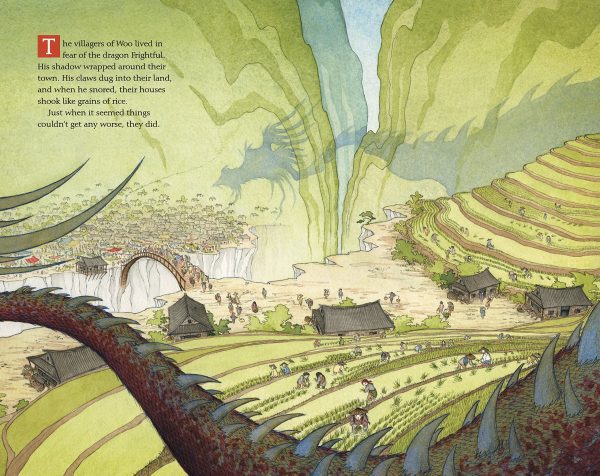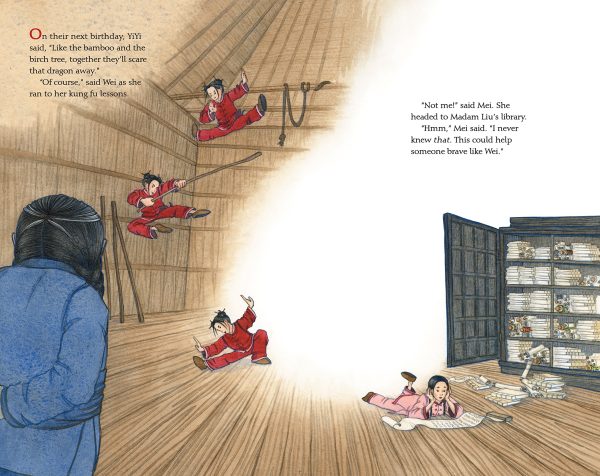 Find The Yin-Yang Sisters and the Dragon Frightful at the following spots:
IndieBound | Barnes & Noble | Amazon |  Goodreads
ISBN-10: 0399171150
ISBN-13: 978-0399171154
This review is part of Susanna Leonard Hill's Perfect Picture Book series. Visit her site to see the other books recommended.