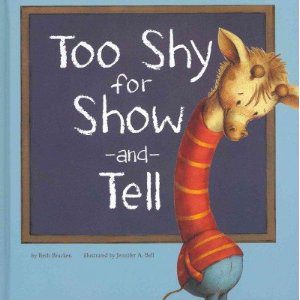 Title: Too Shy for Show and Tell
Author: Beth Bracken
Illustrator: Jennifer Bell
Publisher: Picture Window Books, 2012
Book Type: Fiction
Ages: 3-6
Themes: Shyness, School
Excerpt:
"Sam was a quiet boy. Nobody knew much about him.
Sam loved trucks, but nobody knew that."
Synopsis (from Capstone website):
Sam is a quiet little boy who hates show-and-tell. Just thinking about it makes his stomach hurt. Sam must find a way to conquer his fear of show-and-tell.
Activities:
Show and tell of course.
Games for shy kids for getting kids to interact in a non-competitive environment.
Shykids is a website that discusses shyness in kids/teens and resources on how to help.
Why I Like This Book:
Perfect book for young children. The basic plot surrounds Sam's fear of public speaking, however there is a deeper underlying theme about opening up to people around you and friendship. In the opening scene, a sad Sam is keeping to himself not saying hi to anyone as he walks to school. Nobody knows anything about Sam or what he likes. In contrast the end scene, shows a happy Sam waving good-bye to his friends as he heads home.
The author effectively uses short, simple sentences to emotionally connect to Sam. The reader will immediately be able to feel Sam's fears and concerns, and will cheer for Sam in the end. The illustrations are visually appealing with a soft sketch-like feel and the animals have a roundness to them. Both qualities bring a warm endearing quality to the cast of characters.
This book is part of Capstone's Little Boost series, that look to tackle early life lessons in a funny relatable manner. Check out the other books.
This review is part of Susana Leonard Hill's Perfect Picture Book series. Visit her site to see the other books recommended.
Picture Book Details:
As an aspiring PB writer, I often analyze a book for its text and illustrations to learn from it. Here are some of the details I liked from this book:
– The opening and closing scenes of Sam going to school/home being sad/happy. Nice parallels.
– Mention of the truck, cake, and dogs in the beginning, that later tie into the ending.
– Repetitive use of the line "Everyone clapped when he was done." after each kid did his show-and-tell. This helps build up Sam's confidence for show-and-tell and gives the young reader confidence that everything is going to be okay.
– Otto saying "weaf" instead of "leaf." Realistic speech, young kids (like my 4year old) often have a hard time with L's and R's. Also it shows Sam that is okay to do be imperfect.