Diwali is coming up on November 7th this year. We tell our kids Diwali is big like Christmas is here in America. I personally haven't celebrated Diwali in India but I hear it's quite amazing. This lovely board book is a wonderful introduction for those new to the holiday and those who already celebrate it. Enjoy!
Title: Diwali (Celebrate the World series)
Author: Hannah Eliot
Illustrator: Archana Sreenivasan
Publisher: Little Simon, 2018
Book Type: Fiction
Ages: 2-4
Theme: Diwali, Indian Holiday
Opening:
Each year in October or November, we celebrate Diwali, the festival of lights! Diwali is a Hindu festival honored by many people all over the world.
During the holiday, we celebrate the victory of light over darkness, good over evil, knowledge over ignorance, and hope over despair.
Synopsis (from Amazon website):
Each autumn we gather with our friends and family and light our brightest lanterns. It's time for Diwali, the festival of lights! In this lovely board book with illustrations from Archana Sreenivasan, readers learn that the five days of Diwali are a time to pray for a bountiful season, celebrate the special bonds between siblings, and rejoice in the victory of light over darkness and good over evil.
Activities:
A Pinterest board containing Diwali crafts, food, decor and more!
Why I Like This Book:
A wonderful book to introduce the holiday of Diwali. It provides a good overview for non-Indians as well as Indians. The text is simple and explains the origins of the Hindu religious holiday and then goes on to explain the five-day celebration. The art is colorful and rich with details and authenticity. The Indian illustrator brings to life Diwali celebrations on the streets of India. I love that she depicts inter-generational families which is very common over there and the use of different skin tones.
While the format is a board book the depth of text and illustrations makes it more suitable for kids in elementary school rather than preschool. For example, in the opening spread, the text says Diwali is celebrated around the world with one scene from the US and other from South East Asia, however, there is no text speaking to it. Therefore, it is easy to miss. One other criticism I have is that with only two small spots from outside and Indian combined with the rest of the scenes being set in India does not adeptly convey the largeness of this holiday around the world but rather makes it seem like a holiday just in India.
It's unfortunate to be in this small format as it would've been great for story time during Diwali celebrations in school. It's still a wonderful read and one I highly recommend. Take a look at the art below!
Happy Diwali!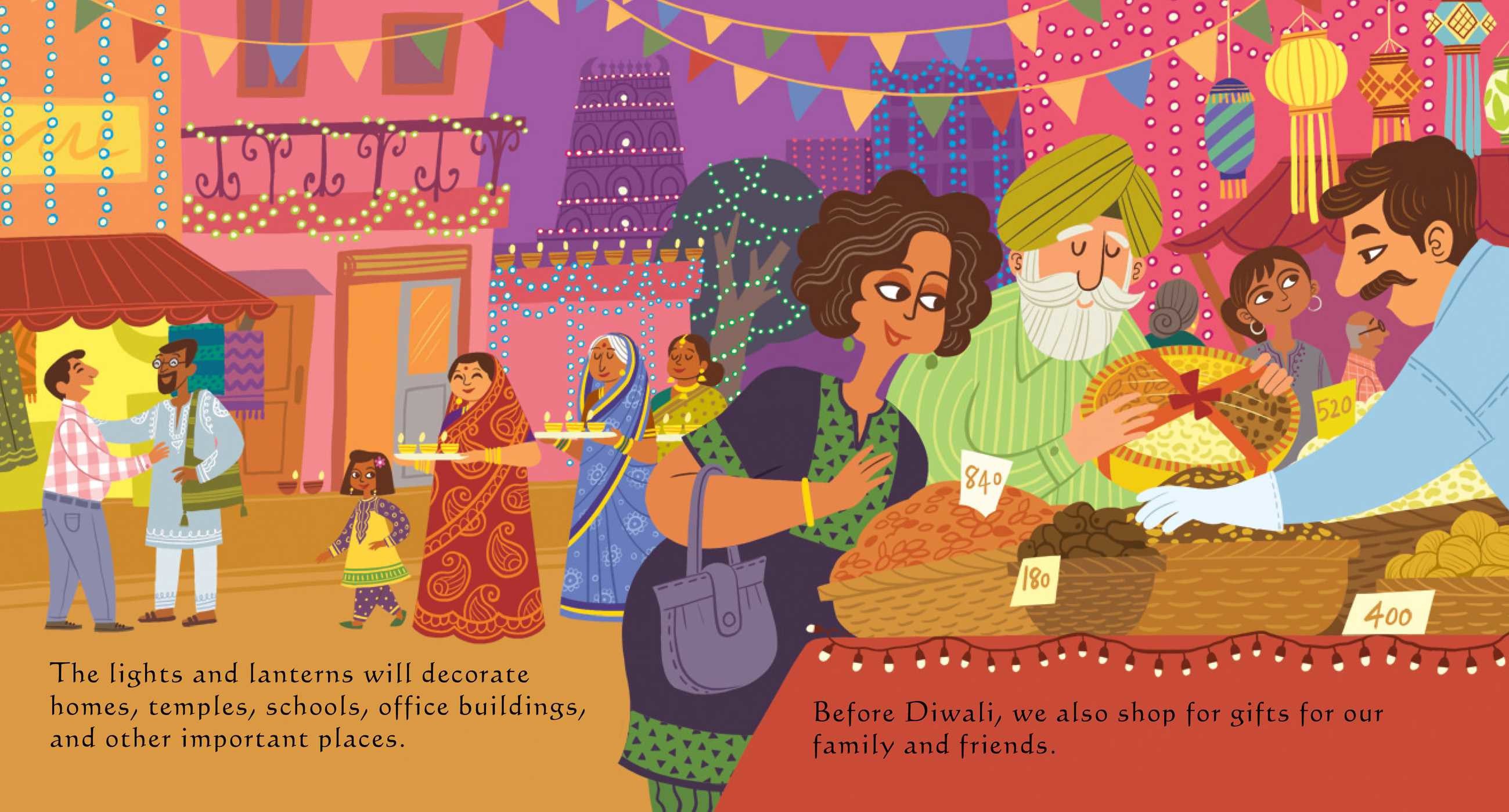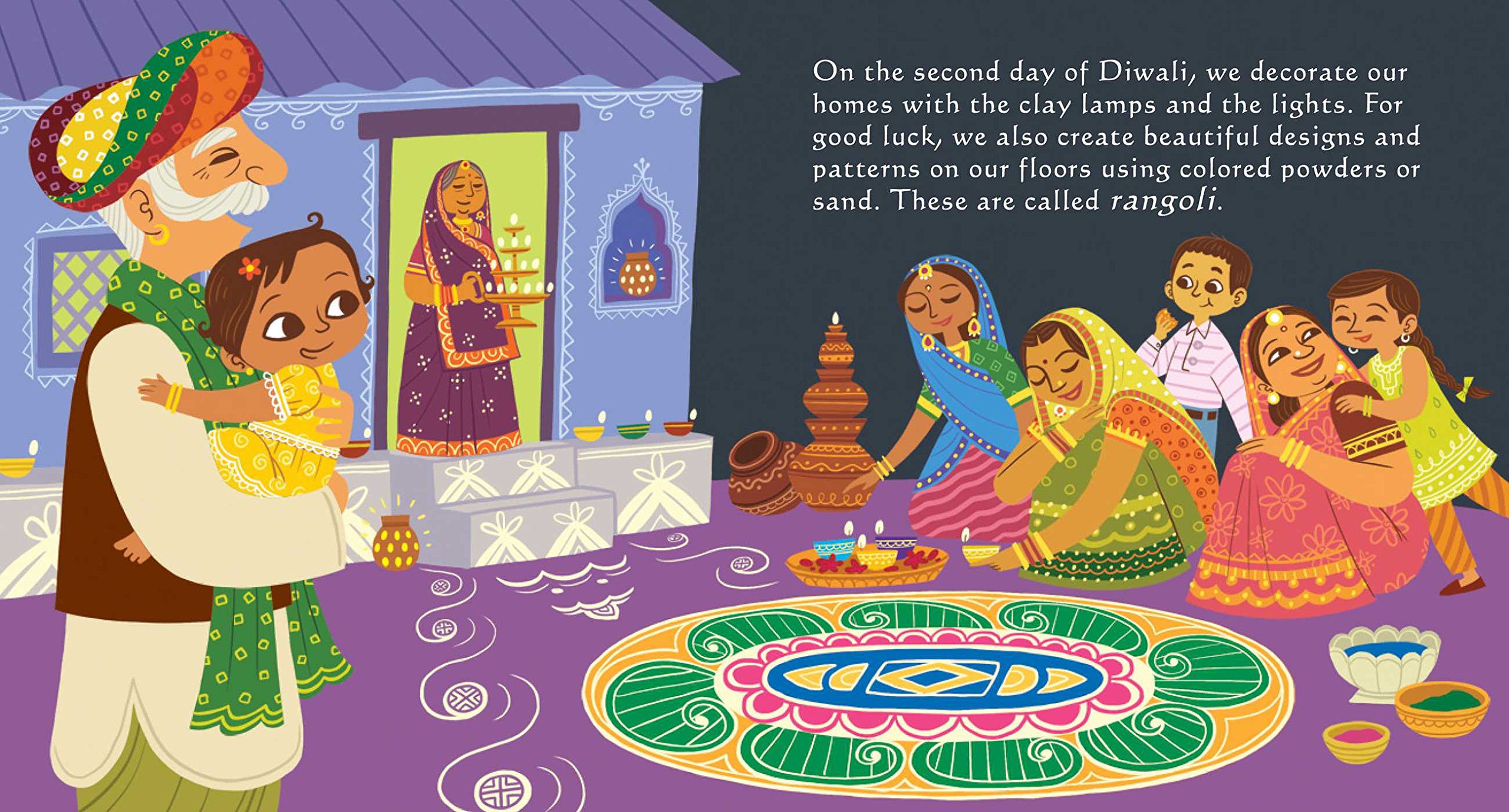 Find Diwali at the following spots:
Amazon | Barnes & Noble | Indiebound | Goodreads
ISBN-10: 9781534419902
ISBN-13: 978-1534419902
This review is part of Susanna Leonard Hill's Perfect Picture Book series. Visit her site to see the other books recommended.