Last week I posted Part 2: Picture Books. Today, I'm posting novels from Chapter Books to Young Adult. Lots of great reads!
The books listed below are traditionally published and are either by a South Asian author, contains a South Asian Main Character, or involves South Asian culture. The books are organized by Category and then Publication Date.
For an abbreviated pdf version of this list click here. Feel free to share with librarians, booksellers, teachers, and book lovers everywhere.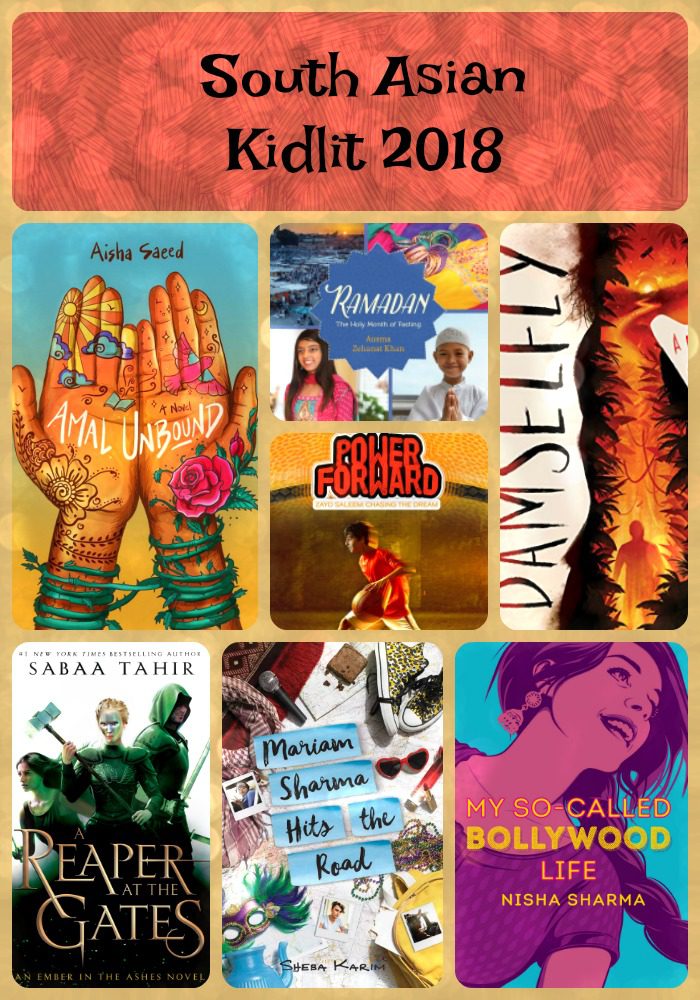 ---
Title: Power Forward

Author: Hena Khan
Illustrator: Sally Wern Comport
Publisher: Salaam Reads
Publication Date: May 8, 2018
Category-Genre: Chapter Book
Synopsis:
From the critically acclaimed author of Amina's Voice comes the first book in an exciting new chapter book series about a fourth-grader named Zayd Saleem with big dreams of basketball stardom. There are only a few small things in his way.
Bio:
Hena Khan is the author of Amina's Voice, a Washington Post, Kirkus Reviews and NPR Best Book of 2017, the Zayd Saleem: Chasing the Dream chapter book series, and several beloved picture books including Golden Domes and Silver Lanterns, It's Ramadan, Curious George, and Night of the Moon.
Twitter: https://twitter.com/henakhanbooks
Facebook: https://www.facebook.com/hena.khan.author
Instagram: https://www.instagram.com/henakhanbooks/
Website: https://www.henakhan.com/
---
Title: Ramadan: The Holy Month of Fasting

Author: Ausma Zehanat Khan
Publisher: Orca Books
Publication Date: March 27, 2018
Category-Genre: Middle Grade – Nonfiction
Synopsis:
Ramadan: The Holy Month of Fasting explores the richness and diversity of the Islamic tradition by focusing on an event of great spiritual significance and beauty in the lives of Muslims. Rich with personal stories and stunning photographs, Ramadan demystifies the traditions and emphasizes the importance of diversity in a world where Islamophobia is on the rise.
Bio:
Ausma Zehanat Khan is the author of the Khattak/Getty mystery series, which has been optioned for television. A British-born Canadian, she is a former adjunct law professor and the former editor-in-chief of Muslim Girl magazine. She lives in Colorado with her husband.
Website: www.ausmazehanatkhan.com
Twitter: @AusmaZehanat
Facebook: @ausmazehanatkhan
---
Title: Amal Unbound

Author: Aisha Saeed
Publisher: Nancy Paulsen Books
Publication Date: May 8, 2018
Category-Genre: Middle Grade – Contemporary
Synopsis:
Bookish Amal loves learning and dreams of becoming a teacher one day until an accidental run in with a corrupt local landlord in her Punjabi village results in her being taken into his home as an indentured servant. Amal feels hopeless at first but learns to navigate her new life and wonders if perhaps, just maybe, she could change things for her town and take this landlord down once and for all.
Bio:
Aisha Saeed is an author, lawyer, educator and mother. Her debut novel was Written in the Stars (Penguin, 2015). She lives in Atlanta with her husband and three sons.
Twitter: @aishacs
Instagram: @aishacs
---
Title: Damselfly

Author: Chandra Prasad
Publisher: Scholastic
Publication Date: March 27, 2018
Category-Genre: Young Adult Fiction
Synopsis:
In the wake of a crash landing on a deserted tropical island, a group of private school teens must rely on their wits and one another to endure. When their initial attempts to escape the island fail, the teens find they need to survive more than the jungle . . . they need to survive each other.
Bio:
Chandra Prasad's first young adult novel, Damselfly, will be published this month by Scholastic. The author previously wrote novels for adults, including On Borrowed Wings, a historical drama set in early 20th century Yale University, and Death of a Circus, which Booklist called "Richly textured [and] packed with glamour and grit." Prasad is also the originator and editor of Mixed, an anthology of short stories on the multiracial experience, which was published to international acclaim by W.W. Norton.
Twitter: https://twitter.com/chandrabooks
Goodreads: https://www.goodreads.com/author/show/207156.Chandra_Prasad
Amazon: https://www.amazon.com/Chandra-Prasad/e/B001IQZHZS
Facebook: https://www.facebook.com/chandra.prasad.1654
---
Title: My So-Called Bollywood Life

Author: Nisha Sharma
Publisher: Crown Books for Young Readers, Random House Children's Books
Publication Date: May 15, 2018
Category-Genre: Young Adult – Romantic Comedy
Synopsis:
Winnie Mehta must learn to choose between free will and destiny as she struggles to gain control of her school's film festival. Luckily, she gets a little help from a Bollywood movie star along the way.
Bio:
Nisha Sharma lives in New Jersey with her cat Lizzie Bennett and her dog Nancey Drew. MY SO-CALLED BOLLYWOOD LIFE is her debut novel.
Website: www.nisha-sharma.com
Instagram: www.instagram.com/nishawrites
Twitter: www.twitter.com/nishawrites
---
Title: Mariam Sharma Hits the Road

Author: Sheba Karim
Publisher: HarperCollins
Publication Date: June 5, 2018
Category-Genre: Young Adult – Contemporary
Synopsis:
Three South Asian American best friends pile into a car and start driving south, making all kinds of pit stops along the way–from a college drag party to a Muslim convention, from alarming encounters at roadside diners to honky-tonks and barbeque joints, each mile of the road bringing them closer to their own truths, and each other.
Bio:
Sheba Karim is the author of Skunk Girl and That Thing We Call a Heart. She is based in Nashville, TN.
Facebook: www.facebook.com/shebakarimwriter
Twitter: www.twitter.com/shebakarim
Title: A Reaper at the Gates

Author: Sabaa Tahir
Publisher: Razorbill, an imprint of Penguin Young Readers
Publication Date: June 12, 2018
Category-Genre: Young Adult – Fantasy
Synopsis:
The highly anticipated third book in #1 New York Times bestselling author Sabaa Tahir's EMBER QUARTET.
Beyond the Martial Empire and within it, the threat of war looms ever larger. Helene Aquilla, the Blood Shrike, is desperate to protect her sister's life and the lives of everyone in the Empire. But she knows that danger lurks on all sides. Far to the east, Laia of Serra knows the fate of the world lies not in the machinations of the Martial court, but in stopping the Nightbringer. And in the land between the living and the dead, Elias Veturius has given up his freedom to serve as Soul Catcher. But in doing so, he has vowed himself to an ancient power that demands his complete surrender–even if that means abandoning the woman he loves.
Bio:
Sabaa Tahir is the New York Times bestselling author of the young adult fantasy An Ember in the Ashes.  She likes thunderous indie rock, garish socks, and all things nerd. Sabaa currently lives in the San Francisco Bay Area with her family.
Twitter: https://twitter.com/sabaatahir
Facebook: https://www.facebook.com/SabaaTahirAuthor/
Instagram: https://www.instagram.com/sabaatahir/
Tumblr: http://sabaatahir.tumblr.com