Welcome back! Summer is flying by and we've got a lot of wonderful South Asian Kidlit books coming out in the next few months. It is wonderful to the see the breadth of South Asian books that are coming out from real-world stories, to contemporary, and fantasy. Last week, I was interviewed by Kristi at the Winged Pen about diversity in children's literature. Come find out my thoughts on the current state and areas where I think there needs to be more focus.
Today I bring you nine titles (2 PB, 4 MG, 4 YA) that are being released in the second-half of 2017. What's cool is that we have a few returnees! Folks that were featured in previous round-up posts! 🙂 These books are traditionally published and are either by a South Asian author, contains a South Asian Main Character, or involves South Asian culture. The books are organized by Category and then Publication Date. Here are links to the previous South Asian Kidlit 2017-Part1 and 2016.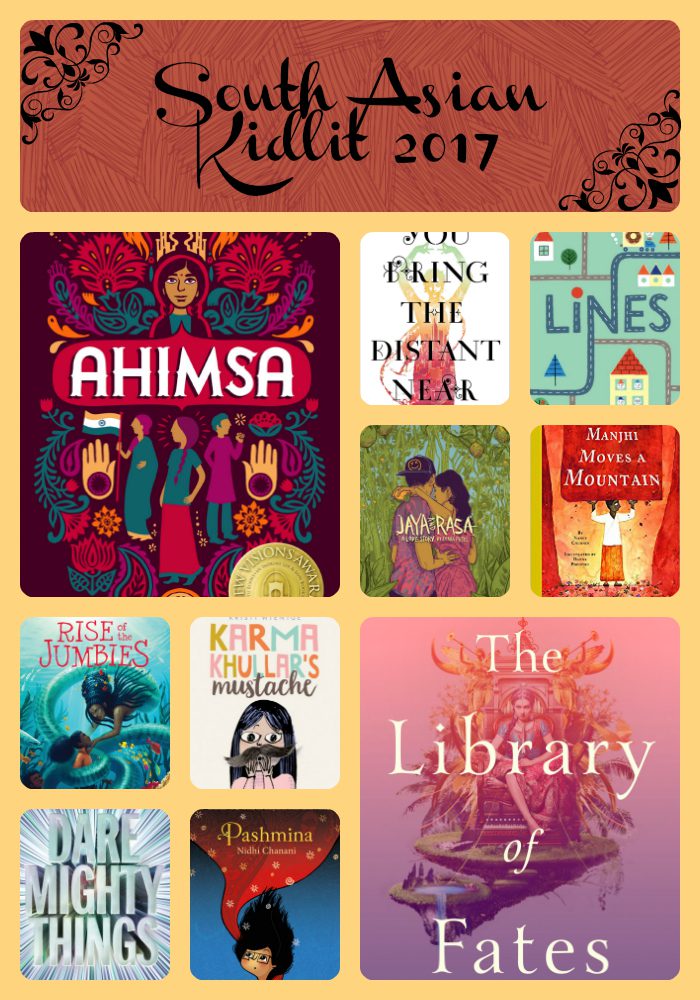 ---

Title: Lines

Author: Sarvinder Naberhaus
Illustrator: Melinda Beck
Publisher:  Little Simon
Publication Date:  August 22, 2017
Category-Genre:  Picture Book
Synopsis: Think beyond shapes. Beyond colors. Beyond letters and numbers. With poetic text and beautiful illustrations, this board book shows us how individual pieces make up a whole. And not just a whole house or a whole town, or a whole city, but a whole universe.
Bio: Sarvinder Naberhaus immigrated from Punjab to the U.S. when she was four years old. Her first book, Boom Boom, was illustrated by Caldecott-honor winning artist Margaret Chodos-Irvine. Her second book, Blue Sky White Stars is illustrated by Caldecott-honor winning artist Kadir Nelson.
Website: www.sarvinder.com
Twitter: @SarvinderN
Facebook: Sarvinder Author
---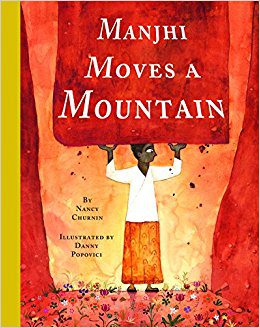 Title: Manjhi Moves a Mountain
Author: Nancy Churin

Illustrator: Danny Popovici
Publisher: Creston Books
Publication Date: >Sept. 1, 2017
Category-Genre: Non-fiction picture book biography
Synopsis: Dashrath Manjhi used a hammer and chisel, grit, determination, and twenty years to carve a path through the mountain separating his poor village from the nearby village with schools, markets, and a hospital. Manjhi Moves a Mountain is the true story of how everyone can make a difference if his or her heart is big enough.
Curriculum Guide:https://docs.wixstatic.com/ugd/68b71d_515070a02f9b496e9281ed433fce05f1.pdf
 
Bio: Manjhi Moves a Mountain, Nancy Churnin's second picture book, is a fall 2017 Junior Library Guild selection and is featured in KitaabWorld.com. Nancy's book debut, The William Hoy Story, is on multiple book lists, including the 2017 Texas 2×2 and Topaz Reading Lists and the 2018 Illinois Monarch Award Master List. Nancy is the theater critic for The Dallas Morning News and lives in North Texas with her family.
Website: nancychurnin.com
Facebook: Nancy Churnin Children's Books
Twitter: @nchurnin
Amazon Author Page: https://www.amazon.com/Nancy-Churnin/e/B01CR5K762/ref=dp_byline_cont_book_1
---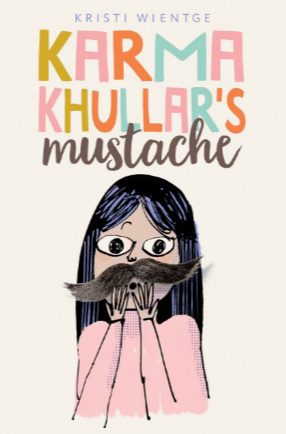 Title: Karma Khullar's Mustache

Author: Kristi Wientge
Publisher: Simon & Schuster Books for Young Readers
Publication Date: August 15, 2017
Category-Genre: MG- Contemporary
Synopsis: Karma is entering middle school and everything—from Daddy losing his job, to Mom working full time, to her best friend being preoccupied with the new girl, to discovering 17 hairs on her upper lip—is upside down. Karma has no one to turn to and must figure out what to make of her terrifyingly hairy surprise.
Bio: Kristi Wientge grew up in Ohio and studied to be a teacher for children with special needs. Since graduating university she has spent several years exploring the world from China to England teaching her students everything from English to how to flip their eyelids. She's spent the last 12 years raising her family in her husband's home country, Singapore.
Twitter: @kwientge
Facebook: https://www.facebook.com/kristiwientgeauthor/
Instagram: kristiwientge
Blog: http://www.kristiwientge.com/
---
Title: Rise of the Jumbies

Author: Tracey Baptiste
Publisher: Algonquin Young Readers
Publication Date: September 19, 2017
Category-Genre: Middle Grade – Fantasy, Fairy Tale
Synopsis: Corinne LaMer defeated the wicked jumbie Severine months ago, but things haven't exactly gone back to normal in her Caribbean island home. Everyone knows Corinne is half-jumbie, and many of her neighbors treat her with mistrust. When local children begin to go missing, snatched from the beach and vanishing into wells, suspicious eyes turn to Corinne.
Bio: Tracey Baptiste is the author of RISE OF THE JUMBIES, a sequel to THE JUMBIES. Her other books include ANGEL'S GRACE and THE TOTALLY GROSS HISTORY OF ANCIENT EGYPT. She volunteers with We Need Diverse Books, The Brown Bookshelf, I Too Arts Collective, and teaches in Lesley University's Creative Writing MFA program.
Facebook:https://www.facebook.com/traceybaptistewrites
Twitter: @TraceyBaptiste
Instagram: @traceybaptistewrites
---
Title: AHIMSA

Author: Supriya Kelkar
Publisher: Tu Books
Publication Date: October 2, 2017
Category: Middle Grade – Historical Fiction
Synopsis: In 1942 India, after Gandhi asks each family to give one member to the freedom movement, Anjali is devastated to think of her father joining the cause. But her father isn't the one going. Her mother is.When Anjali's mother is jailed, Anjali must step out of her comfort zone to take over her mother's work, ensuring that her little part of the independence movement is completed.
Bio: Supriya Kelkar was born and raised in the Midwest. She learned Hindi as a child by watching three Bollywood films a week. After college she realized her lifelong dream of working in the film industry when she got a job as a Bollywood screenwriter. AHIMSA is her middle grade debut.
Twitter: @soups25
Instagram: @Supriya.Kelkar
Website:www.supriyakelkar.com
---

Title: Pashmina 

Author & Illustrator: Nidhi Chanani
Publisher: First Second
Publication Date: October 3, 2017
Category-Genre: Middle-Grade – Graphic Novel
Synopsis: Pashmina tells the story of an Indian-American girl who struggles to fit in at high school, then discovers more about her family's history with the help of her mother's magical pashmina.
Bio: Pashmina is Nidhi Chanani's debut graphic novel. Nidhi Chanani is a freelance illustrator and artist, and the owner of Everyday Love Art. Nidhi draws and dreams every day with her husband, daughter and their two cats in the San Francisco Bay Area.
Instagram: nidhiart
Twitter: @nidhiart
Tumblr: nidhiart
Facebook:  https://www.facebook.com/nidhichananiartist
---
Title: The Library of Fates
Author: Aditi Khorana

Publisher: Razorbill/Penguin
Publication Date: July 18th, 2017
Category-Genre: Young Adult – Historical Fantasy
Synopsis:  A romantic coming-of-age fantasy tale steeped in Indian folklore, perfect for fans of The Star-Touched Queen and The Wrath and the Dawn. The Library of Fates is the story of two women – Princess Amrita and the oracle Thala, an escaped slave, who must band together to overthrow the ruthless emperor Sikander. To do this Amrita must find the Library of All Things which can reverse fates so that they can return to an earlier time. Caught between her rosy past and an unknown future, Amrita must decide whether to restore what was lost, or does another life – and another love – await?
Bio: Aditi Khorana has worked as a journalist, a researcher, and an entertainment research executive. She graduated from Brown University with a degree in International Relations and has an MA from the Annenberg School for Communications. MIRROR IN THE SKY was her first novel. Her second book is THE LIBRARY OF FATES, a feminist historical fantasy. She lives in Los Angeles and spends her free time reading, hiking, and exploring LA's eclectic and wonderful architecture.
Website: www.aditikhorana.com
Twitter: @aditi_khorana
Instagram: @aditi_khorana
Facebook: https://www.facebook.com/aditi.khorana.9
---
Title: Jaya and Rasa: A Love Story

Author: Sonia Patel
Publisher: Cinco Puntos Press
Publication Date: September 12, 2017
Category-Genre: Young Adult Fiction
Synopsis: Seventeen-year-old Jaya Mehta detests wealth, secrets, and privilege, though he has them all. His family is Indian, originally from Gujarat. Rasa Santos, like many in Hawaii, is of mixed ethnicity. All she has are siblings, three of them, plus a mother who controls men like a black widow spider and leaves her children whenever she wants to. Neither Jaya nor Rasa have ever known real love or close family―not until their chance meeting one sunny day on a mountain in Hau'ula.
Bio: Sonia Patel is a psychiatrist who works with children and adults. She lives and practices in Hawaii. Her YA debut, RANI PATEL IN FULL EFFECT, received many awards, including: finalist for the Morris Award, YALSA Best Fiction for Young Adults, Kirkus Reviews Best Teen Books of 2016.
Twitter: @soniapatel808
Instagram: soniapatel808
Facebook: @SoniaPatelAuthor
---
Title: You Bring the Distant Near

Author: Mitali Perkins
Publisher: Macmillan / FSG
Publication Date: September 12, 2017
Category-Genre: Young Adult
Synopsis: This elegant young adult novel captures the immigrant experience for one Indian-American family with humor and heart. Told in alternating teen voices across three generations, You Bring the Distant Near explores sisterhood, first loves, friendship, and the inheritance of culture–for better or worse.
Bio: Mitali Perkins was born in Kolkata, India and immigrated to the USA with her family when she was seven. She's the author of ten novels, including TIGER BOY, which won the South Asia Book Award, BAMBOO PEOPLE, and RICKSHAW GIRL (coming soon to the screen from Sleeperwave films.)
Twitter: @mitaliperkins
Instagram: @mitaliperkins
Facebook: @authormitaliperkins
---
Title: Dare Mighty Things

Author: Heather Kaczynski
Publisher: HarperCollins/HarperTeen
Publication Date: Oct 10, 2017
Category-Genre: Young Adult –  Sci-Fi
Synopsis: Eighteen-year-old Cassandra Gupta's entire life has been leading up to this—the opportunity to travel to space. But to secure a spot on this classified mission, she must first compete against the best and brightest people on the planet. As the days until the launch tick down and the stakes rise higher than ever before, only one thing is clear to Cassie: she'll never back down…even if it costs her everything.
Bio: Heather has a degree in biology and works in a military library near NASA's Marshall Space Flight Center, where she buys books for children and teens. She lives in Huntsville, Alabama with her husband and her young daughter.
Website: heatherkaczynski.com
Twitter: @HKaczynski
Facebook: https://www.facebook.com/heatherkaczyn/
Instagram: https://www.instagram.com/heatherkaczynski/
Tumblr: http://dare-mightythings.tumblr.com/